MLK: UP CLOSE & PERSONAL FROM HIS CHILDHOOD TO THE MARCH ON WASHINGTON
Excellent Entertainment for Everyone!
About this event
SHADES OF TRUTH THEATRE, VOZA RIVERS/ NEW HERITAGE THEATRE GROUPS WITH HARLEM ADVOCATES FOR SENIORS PRESENT...............
MLK: UP CLOSE & PERSONAL
FROM HIS CHILDHOOD TO THE MARCH ON WASHINGTON
A One Man Show featuring MICHAEL GREEN as MLK.
This is an engaging exegesis of the life Martin Luther King Jr, from his boyhood years to coming of age as the son and grandson of Baptist ministers. After graduating college with honors at the age of nineteen, Martin meets and marries the love of his life Coretta Scott. He then embarks on a journey that will transform his life as well as history when he is tasked with leading the Montgomery bus boycott. Relive his most shining moment at "The March on Washington" King was not just a man with a dream he was a man with a vision and a plan.
ENTRY TO PERFORMANCE SPACE @ RAYMOUR & FLANIGAN BEGINS AT 5:40 PM.
This program is supported in part by public funds from the New York City Department of Cultural Affairs in partnership with the City Council, New York City Council Speaker Corey Johnson, New York, City Council Member Bill Perkins, City Council Member Mark Levine, The New York City Council Committee on Cultural Affairs, Libraries and International Intergroup Relations, Jimmy Van Bramer, Chair, NY State Council on the Arts, with the support of Governor Andrew Cuomo & New York State Legislature, NY State Assemblywoman Inez E. Dickens, NY State Assemblyman Al Taylor, NY State Senator Brian Benjamin, NY State Senator Robert Jackson, NY State Senator Jose M. Serrano, The Greater Harlem Chamber of Commerce, CB 10 Arts & Culture Committee, Community WorksNYC, and Con Edison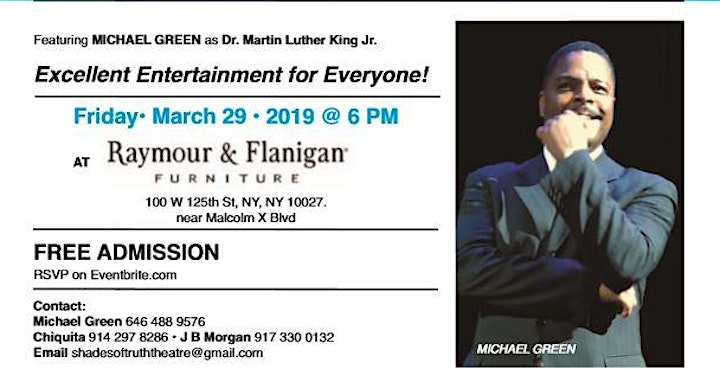 Organizer of MLK: UP CLOSE & PERSONAL FROM HIS CHILDHOOD TO THE MARCH ON WASHINGTON
Shades of Truth Theatre, Audelco Award Recipient 2009, has been a welcoming presence in the theater community for the past nine years because of its excellence in producing positive and affordable entertainment with high standards. Shades of Truth Theatre has the passion to explore and develop relevant, provocative, and innovative new plays written by and about people of color and the Black experience.  At the core of Shades of Truth Theatre is our commitment to producing works that stimulate, agitate and activate.  http://www.shadesoftruththeatre.com
New Heritage Theatre Group, the oldest Black nonprofit theater company in New York City, originated in 1964 under the name New Heritage Repertory Theatre by the late Roger Furman, a revered playwright, director, actor and lecturer, who began his career in the 1940s with the American Negro Theatre in Harlem. The mission was to preserve and institutionalize classic works of Black theatre.
 In 1983, Voza Rivers, an award-winning music and theatre producer took over the company and reorganized under the name New Heritage Theatre Group (NHTG). Voza expanded the mission to provide training, experience, and international exposure to veteran and emerging artists. New Heritage Theatre Group presentations reflect the historical, social and political experiences of African and Latino descendants in America and abroad.
In 1997, Jamal Joseph, an award-winning writer, director, documentary filmmaker, and educator, became the Executive Artistic Director. Katsuya (Kats) Abe, International Producer, joined New Heritage Theatre Group in 1987 and co-produced numerous events in the United States and abroad, including Jazz for Peace, International Piano Festival with People for Disabilities and many others.