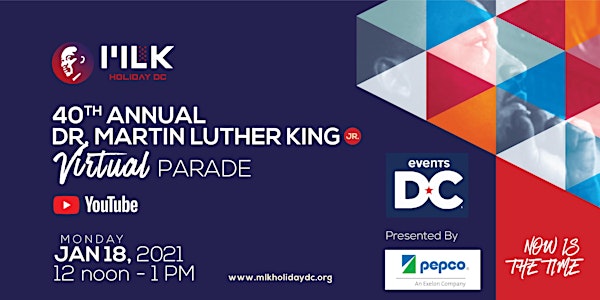 MLK Holiday DC 40th Annual Virtual Parade
We look forward to the 40th Annual Dr. Martin Luther King, Jr. Parade - another festive experience.
About this event
Amid a global pandemic, the Annual Dr. Martin Luther King, Jr. Virtual Parade will take place virtually on Monday, January 18, 2021, at 12 noon via YouTube - Be sure to follow us on YouTube, Facebook, Twitter, and Instagram @mlkholidaydc115
Also viewable on mlkholidaydc.org; and the Washington Informer website.
Participants are committed to continuing this strong tradition started more than 35 years ago by radio talk show host and community activist Ralph Waldo "Petey" Greene, Washington Informer publisher and philanthropist Dr. Calvin W. Rolark and former Ward 8 Councilmember Wilhelmina J. Rolark when they organized the annual Martin Luther King Day Parade (on one of the nation's first streets named in honor of the civil rights leader, following his death in 1968). The parade began in 1979, six years before Kings's birthday became a federal holiday. We continue the tradition and celebration that the Rolarks and Petey Greene started, as we honor Dr. King and keep his message alive.
Across the nation and the world, Dr. King's life and legacy is commemorated by a day of service and promoted as A Day On and Not a Day Off.  The Martin Luther King Jr. Parade symbolizes the need to continue Dr. King's work and reinforces the idea reflected in his words, "Human progress is neither automatic nor inevitable… every step toward the goal of justice requires sacrifice, suffering, and struggle; the tireless exertions and passionate concern of dedicated individuals. Those who believe in Dr. King's message are considered members of the Coalition for Peace and are invited to join the Martin Luther King Jr. Memorial Parade every year.