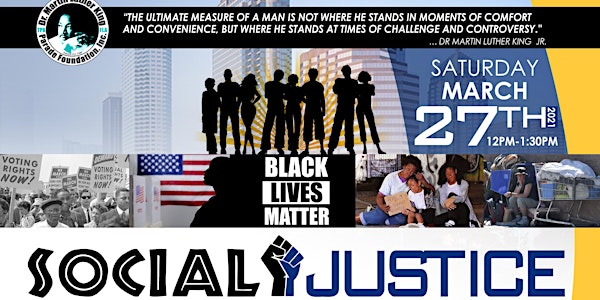 MLK Foundation Social Justice Forum
The Dr. Martin Luther King Parade Foundation invites your organization to a Social Justice Forum
About this event
"The ultimate measure of a man is not where he stands in moments of comfort and convenience, but where he stands at times of challenge and controversy."… Dr Martin Luther King Jr.
The Dr. Martin Luther King Parade Foundation invites your organization, and most especially, the youth you represent to join us for a discussion on one of the most pressing issues of our day, social justice. Dr. King dedicated his life to addressing the injustice and inequity endured by Black Americans in the country he loved.
The past year has seen an awakening in America to the ongoing presence of systemic racism and the effects of an unjust society on our most vulnerable citizens. The erosion of voting rights, police brutality, and the rise of poverty are just some of the issues that demand a new commitment from us all to make our country better.
With your help, the MLK Parade Foundation wishes to engage our youth, and help create the next generation of social justice warriors for our community. This social justice workshop is a continuation of our Leadership Academy, dedicated to furthering the legacy of Dr. King for generations to come.
Please click on the link below to register your organization for our Social Justice presentation. The group with the largest contingent of young people (ages 12 – 19) will be eligible for a special award on behalf of the Parade Foundation.
Our lives begin to end the day we become silent about things that matter."……Dr. Martin Luther King Jr.