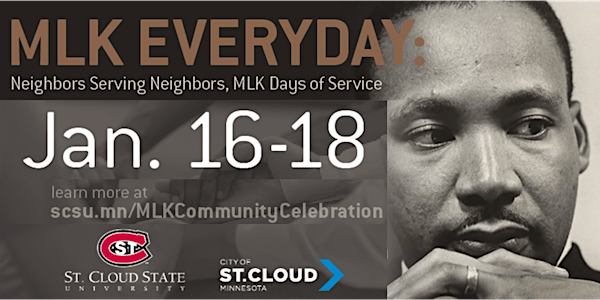 MLK Everyday Neighbors Serving Neighbors
A virtual community conversation, featuring "Who We Are: A Chronicle of Racism in America" by Jeffery Robinson, ACLU President
By St. Cloud State University,
Date and time
Monday, January 18, 2021 · 7am - 12:30pm PST
About this event
The 2021 MLK Community Celebration will feature Jeffery Robinson in a virtual community presentation and conversation. For almost four decades, attorney Jeffery Robinson has devoted his legal career to racial justice. In recent years, he has travelled the country speaking hard truths about race in America. "Our history," he tells audiences, "has been stolen from us." Weaving heartbreak, humor, passion, and rage, Robinson takes us through this stolen history, showing us how the legacy of slavery and U.S. imperialism impacts every aspect of our society – from 1619 through the present.
From the historical connection of slave patrols to local police departments, through the massacres of communities of freed slaves, to the fact that the essential elements of the practice of modern day slavery continued long after the Civil War, Robinson challenges us to think about where we started as a country, where we are, and where we want to end up. His words lay bare an all-but-forgotten past, as well as our shared responsibility to create a better country in our lifetimes.
The history Robinson imparts is not easy. It is not comfortable. But it is necessary. In the end, Robinson's words are a call to arms. He empowers his audience to change the future, leaving them with a sense of optimism about what America could look like if we have the courage to change it.
Register for the premiere *live-only* event: Monday, January 18
8:30 Welcome & awards
9:00 - 12:15p Keynote presentation, "Who We Are: A Chronicle of Racism in America"
Look for additional events:
Sat January 16, 2021 10:30 -12:00p MLK Everyday Families
Saturday – MLK Everyday Families Description: Neighbors Serving Neighbors Family Day. Coming together as a family to support each other, and neighbors in the community. This is a fun-filled family event.
Sunday – MLK Everyday Spirit Description: MLKeveryday Spirit A church service in the tradition of the African American Church of God in Christ (COGIC) broadcast from Higher Ground Church of God in Christ. Rev. James Alberts II, Pastor
Mon January 18, 2021 12:30p-1:30p Community Conversation w Jeffery Robinson