Description
Calling all Volunteers and Artists! Create and present any visual, written, spoken or performance art embracing our theme: "Together We Can Make A Difference."
This includes essays, song, dance, poetry or spoken word, canvas or poster board art, collages, drawings, etc.
Then join us for 1 hr. of community beautification at Gum Springs Community Center. This is open to ALL attendees. We will be providing FREE hot lunch and hot drinks.
An official certificate of volunteer hours for both events will be awarded for all participants. This certificate can be used toward public and private schools in the state of Virginia that require community service prior to graduation, college and university applications, and professional resume building.
5 presentations will be selected by the outreach committee. These participants will be asked to present once more on Sunday, Jan. 27, 2018 at 11 AM and will be awarded a prize on behalf of Shiloh's Pastor Floyd C. Hawkins and First Lady Linda R. Hawkins.
ENTRY CATEGORIES
Children Pre-K & Kindergarten Ages 4 – 6
Children Grade School Ages 7-11
Pre-teen & Teen Category 12 – 17
Young Adult Category Ages 18-30
PLEASE REGISTER if you are presenting, volunteering or both. Link: www.scogicva.org/events-1/mlk-day-creative-arts-youth-showcase-and-beautification-event OR on eventbrite.com*. *If you register on Eventbrite a link requesting additional presentation/volunteer/emergency contact information will be sent to the email you provide.*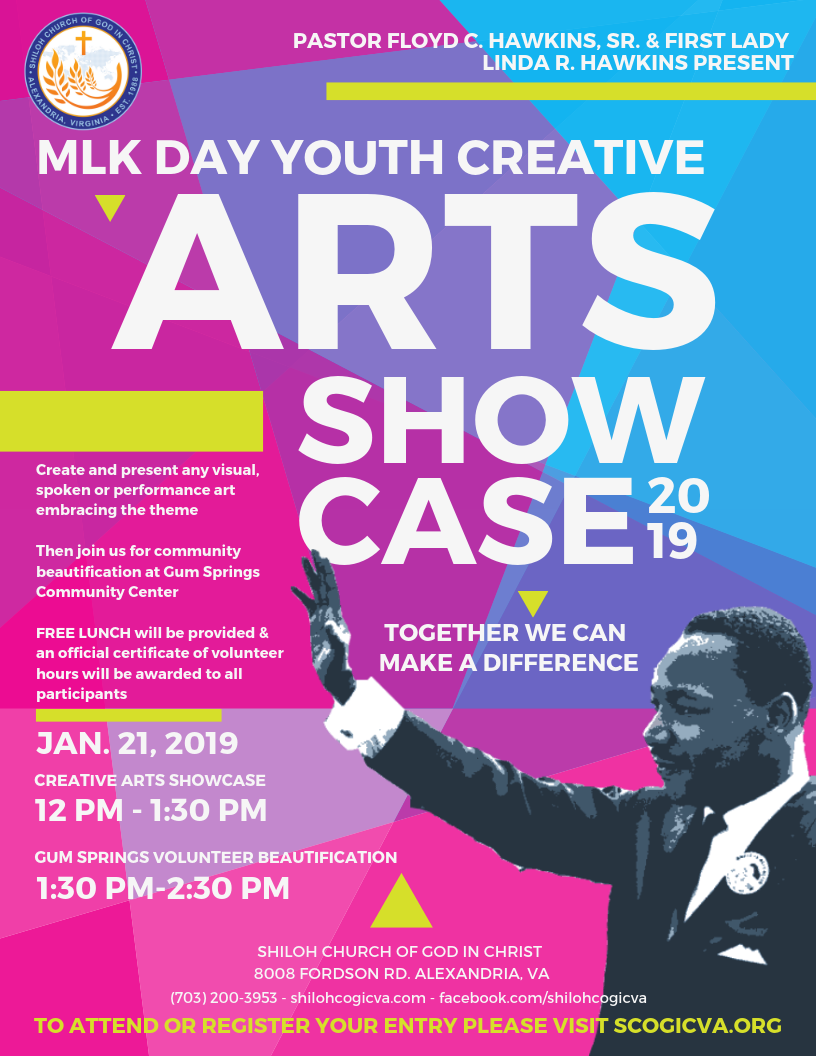 Contact: Lady Satterfield
Telephone: (703) 200-3953
Email: shilohcogicva@gmail.com
Address: 8008 Fordson Rd.
Alexandria, VA 22309
Inside of the Harvest Family Life Center
Follow us on social media facebook.com/shilohcogicva