Critical Race Theory & the viral journey: Join the Conversation & Talk Back with artist Jonathan Harris and special guest Cornelius Godfrey
About this event
In celebration of Martin Luther King Day, Irwin House Gallery, Chene Parc, and the City of Detroit Office of Arts, Culture and Entrepreneurship will present a conversation with Detroit artist, Jonathan Harris, on his artistic practice, his rapidly evolving journey in the arts and his, now famous, Critical Race Theory painting.
The painting's viral journey began in early December when The Other 98% - a non-profit focusing on social justice - posted the image before their 6.5 million social media followers. Similar forums followed by reposting images of the painting, and The Detroit Free Press took it to print, along with the Detroit Metro Times, leading to widespread media coverage. Harris and the art have since appeared on Roland Martin's "Unfiltered", with Marc Lamont Hill on BET News, and with Cryss Walker on CBS, and been featured in print in BLAC Magazine, Black Enterprise, the Grio and multiple other local and national news publications. At the start of the new year, Harris was additionally named one of eight artists to watch by the Detroit News.
Detroit ACE Director Rochelle Riley will commence the MLK Day event and introduce Jonathan Harris, moderator Omo Misha, and special guest, Cornelius Godfrey – Supervisor of Educational Equity, Inclusion and Community Relationships in the Troy School District and co-founder of Affirm Celebrate Advocate, a community organization focused on meeting the needs of students and families of color. Audience dialogue and questions are encouraged, and all perspectives are welcome.
The event will be livestreamed on Detroit A & E, City Channel 22 in Detroit, on YouTube and on @TheDetroitAce on Facebook.
A reception will follow from 5-6 pm.
Masks required.
Chene Parc(in the First National Bldg.)660 Woodward Ave.Detroit, MI 48226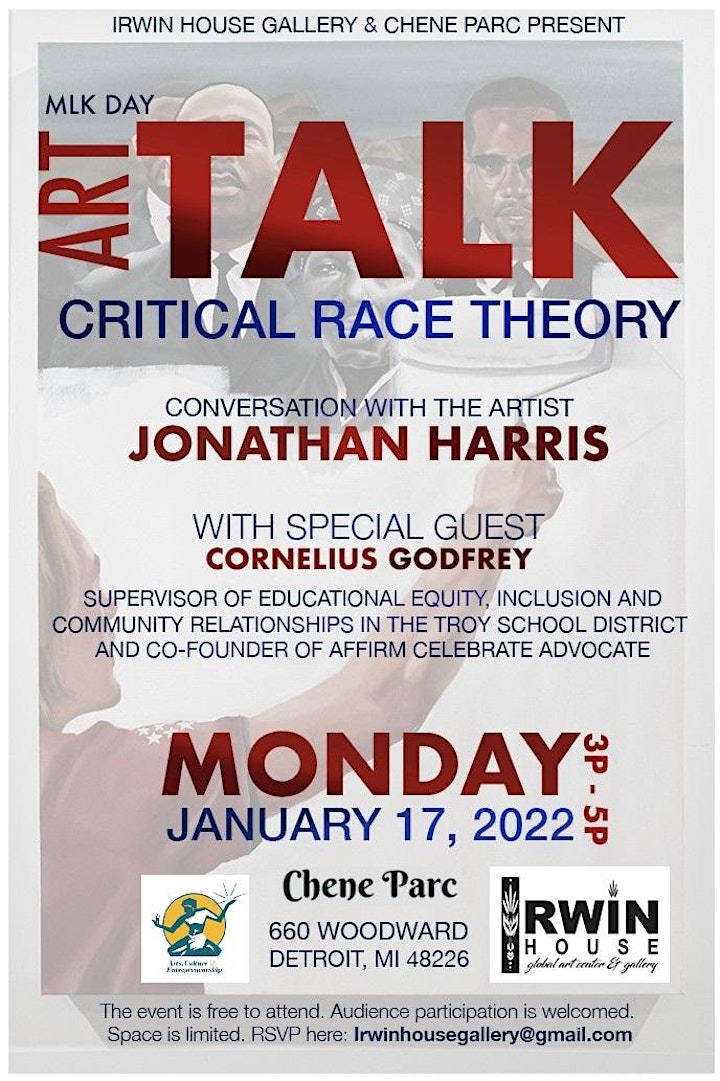 Organizer of MLK DAY: Conversation with Critical Race Theory Artist, Jonathan Harris