MJV's Business Data Power Sessions are webinars about different ways to leverage analytical science to improve business decision-making.
About this event
MJV's Business Data Power Sessions are a series of online meetings created for business professionals looking at different ways to leverage analytical science to improve business decision-making.
During the first two sessions, we will present key speakers to discuss the different aspects of how data is collected and analyzed and then can go on to assist business decisions, all supported by relevant case studies and the personal experiences of our experts.
The third session will be a roundtable discussion reflecting on the first two gatherings, where we will ask our speakers to share further experiences. In the discussion, our speakers will comment on how using MJV's classic approach of design thinking with data or design-driven data science can have multiple positive results towards your company's burning issues. Participants who attend all three sessions will be eligible to enter a competition to win a private 2-hour in-company workshop, designed to kick-start their data and business strategies.
There will also be plenty of opportunities for participants to interact throughout the sessions.
🗓 August, 5th - How data science is supporting sustainable business
A conversation to broaden the vision of how sustainability analytics can help businesses make strategic decisions and monitor sustainability goals. Beyond the sustainability reports that bring transparency to the ESG aspects of companies, we will discuss how it is possible to use data to act more intelligently and sustainably in the core business. This webinar will open your mind to new opportunities from supply chain traceability to sustainable product-service system design.
Host: Paul Sieff
Speakers: Bia Barbosa & Carlos Costa
🗓 August 12th - What can data science do for your business?
An introduction to the topic aimed at business professionals who are looking to better understand how data science can help them. We will be discussing how Data Science and AI can create value by driving better business decisions, increasing operational efficiency, and discovering new market opportunities.
We will also be showcasing inspiring examples from different industries. By the end of this interactive webinar, you should be more confident at identifying specific areas of your work that could benefit from this multidisciplinary area.
Host: Paul Sieff
Speakers: Carlos Costa & Natanael Junior
🗓 August 19th - Boosting innovation through design-driven data science
Our third and final session will be an opportunity for our speakers to reflect on some of their past experiences, delving into where they have been able to have success in the past, whilst also taking the time to share some of their more challenging projects.
The discussion will also give the team the chance to explain a little more about MJV's approach to problem-solving and how design thinking can work in synergy with data science. Explaining why this approach is so important to create innovation and succeed in business. The roundtable will highlight the contribution of a service design model to data analysis and insights.
Mediator: Clarice Falcão
Speakers: Natanael Júnior, Carlos Costa & Bia Barbosa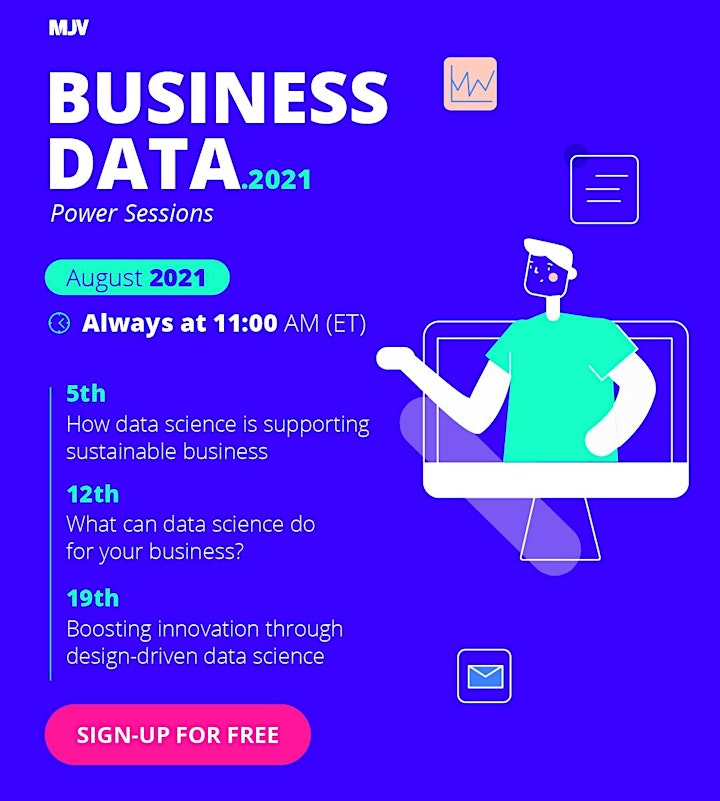 Organizer of MJV Power Sessions: How data science is supporting sustainable business