About this Event
Attending an MJ's Brass Boppers shows is the next best thing to following a brass band down New Orleans' famed Claiborne Ave. The swinging and singing brass-line is the Bay Area's only New Orleans-style brass band whose founding members were born and raised in New Orleans itself.
This group's sound has been meticulously formed over years of practicing and experimenting together from concert halls to street corners, fusing classic cultural New Orleans performance with funk, jazz, modern pop, and a second line twist.
Since 2008, the tight knit musicians have written, practiced, and performed together at festivals, community events, nightclubs, and street corners around the Bay Area and beyond. They've opened for a variety of acts, including George Clinton & Funkadelic, The O'Jays, Trombone Shorty & Orleans Ave, Funky Meters, George Porter Jr., Zigaboo Modeliste, Kermit Ruffins, Katdelic, and many more.
These musicians come together as the versatile MJ's Brass Boppers, offering a taste of authentic New Orleans style with a West Coast flair.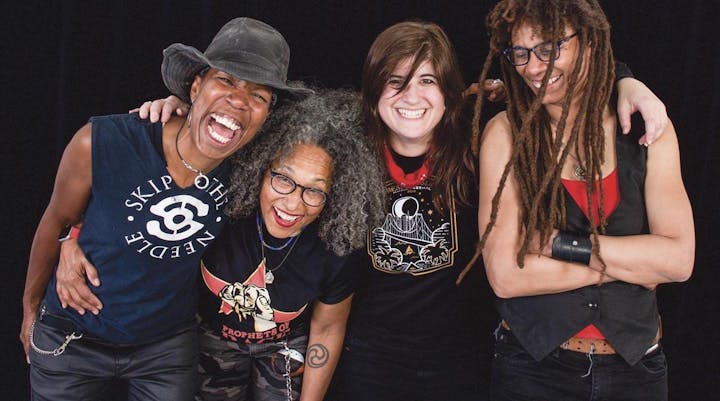 Skip the Needle: Born from group of friends jamming: all veterans of multiple bands, tours, recording.
Shelley Doty (Shelley Doty X-tet, Jambay) guitar, Kofy Brown (Kofy Brown Band, Sistas in the Pit) drums, Katie Cash (Katie Cash, Dolorata, Year of the Fist) guitar and Vicki Randle (the Tonight Show, Mavis Staples) bass.
The band is the collective effort of four Bay area bandleaders, each lead singer, multi-instrumentalist, performer and songwriter. Lead singing duties rotate among the members while the others add background vocals. The songs are collectively written to showcase each member's unique contributions, bringing together rock, funk, soul and fusion in an amalgam that rocks hard and is also musically diverse and complex; carries a strong, socially conscious message but wants everybody to party while hearing it. If Jimi Hendrix, Chrissie Hynde and Chaka Kahn cloned a baby, this band would be the result. Skip the Needle is reckless, eclectic, fearless and fun, dedicated to love and like nothing you've ever heard before.
Skip the Needle Rocks the Love