Event Information
Refund Policy
Refunds up to 7 days before event
Description
Connect to your Heritage, Community, Spirituality.
High Holidays 2017 with MJE West
Join us for an uplifting High Holiday season!
Services complete with break of interactive prayer lectures, beautiful singing and a warm welcoming atmosphere! West servies are made specifically for beginners and Young Jewish Professionals with limited Jewish educational background. All services are no Hebrew necessary, explanatory and followed by a Kiddush/refreshment social.
---
MJE WEST Services led by Rabbi Mark Wildes
Founder, Director | Manhattan Jewish Experience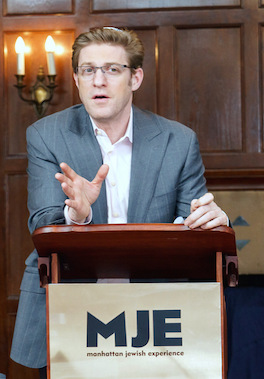 MJE West Staff:
Rabbi Joshua Klein, MJE West Director of Community Engagement
Arnie Singer, MJE West Cantor
---
Important Location Information:
*Services will be held at MJE on 10th Floor
(131 West 86th St, New York, NY 10024)
Costs:
$50 for Rosh Hashana Services (Does NOT include dinner)
$50 for Rosh Hashana Dinner APPLY HERE
$50 for Yom Kippur Services INCLUDES Break-Fast
Your ticket purchase at a cost of $50.00 is tax deductible & goes towards supporting our many program offerings.
---
Special reduced services discount rate for FIRST TIME attendees:
$25 for Rosh Hashana (Regular $50)
$25 for Yom Kippur (Regular $50)
There is no dinner discount for first time attendees.
Special reduced discount rate for STUDENTS:
*must include picture of student id in email attachment
$25 for Rosh Hashana (Regular $50)
$25 for Yom Kippur (Regular $50)
$25 for Dinner (Regular $50)
Email Atara to request your 50% discount code: atara@jewishexperience.org
---
Rosh Hashanah Schedule:

Wednesday, September 20
6:30 pm First Night Services
7:00 pm Evening Talk with Rabbi Mark Wildes
Kiddush following services
8:00 pm First Night Rosh Hashana Dinner,Pre-Registration required
Thursday, September 21
9:00 am Morning Services
10:00 am Introduction to Torah Reading by Sarah Robinson
11:00 am Morning Talk by Rabbi Mark Wildes
11:30 am Shofar Blowing
11:45 am Breakout Session with Sarah Robinson Kiddush follows services
4:45 pm Tashlich meets in Jewish Center Lobby (131 West 86th St)
6:30 pm Afternoon Services Evening Talk with Sarah Robinson
7:35 pm Candle Lighting
7:40 pm Evening Services
Friday, September 22
9:00 am Morning Services
10:00 am Introduction to Torah Reading by Sarah Robinson
11:00 am Morning Talk with Rabbi Joshua Klein
11:30 am Shofar Blowing
11:45 am Break out session with Rabbi Joshua Klein
Kiddush follows services
6:30 pm Afternoon Services
6:45 pm Friday Night Lights
Yom Kippur Schedule:
Friday, September 29
6:25 Candle Lighting
6:30 pm Kol Nidrei and Evening Service Evening Talk with Rabbi Mark Wildes
9:00 pm Ask the Rabbi Q & A Session
Saturday, September 30
9:00 am Morning Service
10:00 am Introduction to Torah Reading
10:30 am Torah Reading
10:35 am Breakout session
11:00 am Morning Talk with Rabbi Mark Wildes
11:25 am Yizkor Memorial Service
12:00 pm Break out Session with Sarah Robinson
2:00 pm Service Concludes
2:15 Class
4:30 pm Afternoon Services and Reading of the Book of Jonah
6:00 pm Concluding Services (Neilah)
7:23 pm Join Us for Yom Kippur Break-Fast
THANKS TO OUR SPONSORS


High Holiday Services are sponsored by

Sunday Rosh Hashanah Dinner is sponsored by

Sunday

Night Kiddush is sponsored by
First Day Kiddush is sponsored by
First Night Kiddush is sponsored by
Second Day Kiddush is sponsored by
Yom Kippur Break Fast is sponsored by
Kippot are sponsored by
Have questions about MJE West High Holidays? Contact Atara at Atara@jewishexperience.org
Date and Time
Location
Manhattan Jewish Experience (10th Floor)
131 West 86th Street
10th Floor
New York, NY 10024
Refund Policy
Refunds up to 7 days before event