The Miyawaki Miniforest movement addresses biodiversity and community. Experts share their experiences in this symposium.
About this event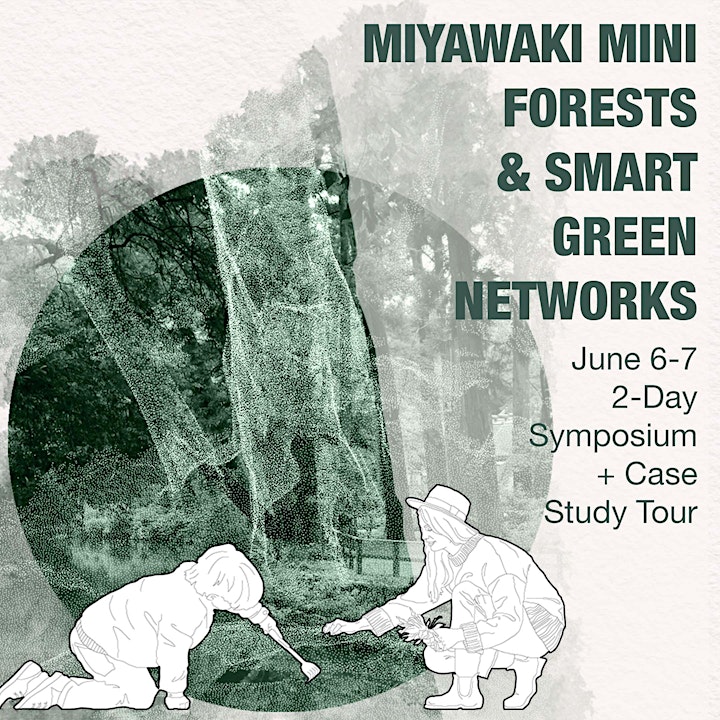 Small community forest patches are being planted in cities around the world to address the global biodiversity and climate crises and to bring people together to celebrate human-nature connections. Many of these have been inspired by a Japanese concept known as the Miyawaki Method of forestry or Miyawaki Miniforests. The Miyawaki Method is an innovative Japanese approach to cultivating biodiverse forests within cities and in post-industrial and regional landscapes. The approach has motivated industry leaders, communities, and environmental practitioners to organise and plant forests. This event will share Australian, Japanese, and global expertise on biodiverse forestry. Such projects are important for a range of reasons, including community cohesion and wellbeing, urban biodiversity, and liveability as well as cleaner agricultural and industrial production, climate mitigation and cooling. The event is hosted by Adelaide University and Kyushu University and is timed to coincide with celebrations for Adelaide's recent listing as a National Park City. Adelaide is the second such city to achieve a National Park City status following London.
The event is sponsored by the Australia Japan Foundation and convened by Adelaide University and Kyushu University with support from partners UTS Sydney.
DAY 1, Monday, June 6th
Day one of the Symposium will involve the sharing of both new and old projects and assembling a database of case studies on mini forests. A "mini forest" is any patch of anthropogenic forest or woodland within urban or regional areas linked with industry, agriculture, or community health and productivity. Miyawaki Miniforests are designed to be biodiverse to support target species and associated ecosystem services. As such forests are interspersed in our suburbs, inner cities, and peri urban areas they can inspire communities everywhere to connect with nature and each other. Day 1 of the Symposium includes participants from Australia, Japan, Europe, and Asia and includes an online morning and afternoon session.
Session 1
Australia, Japan, and Mini Forests
Morning Session, Starting time 10am ACST, 2hr 30mins duration
Introduction: "Why Miniforests Why Now?"
Dr Scott Hawken, Director Landscape Architecture, Adelaide University, Australia.
Keynote: "The Miyawaki Method of Urban Forestry Past and Future"
Prof Fujiwara Kazue, Professor Emeritus, Yokohama National University, Japan
o Questions
o Coffee Break
"Climate-Cooling Community Micro-Forests in Canberra using the Eight Step Method"
Edwina Robinson, Landscape Architect and Founder of Climate Factory, Canberra, Australia
"Do Miyawaki forests deserve the Hype? a case study from a Mediterranean climate."
Dr. Grey Coupland, Ecologist, Murdoch University, Australia
"Tiny forests come to the wide brown land"
Ming Hui Choy & Prof Peter Kanowski, Australian National University, Australia.
PANEL: All Session Speakers with Chair Dr Scott Hawken
Session 2
Japan and Mini Forests around the Globe
Afternoon Session, Starting time 2pm, ACST, 2hr 30mins duration
Keynote: "Caring for The Meiji-Jingu Shrine Forest".
Dr. Terada Toru, Ass Prof., Graduate School of Frontier Sciences, The University of Tokyo, Japan
o Questions
o Coffee Break
"Miyawaki forests in Europe: walk inside and see its impact!"
Nicolas de Brabandere, Founder Urban Forests, Belgium
"The grove of the tutelary shrine in Fukuoka City"
Prof Masakazu Tani, Kyushu University, Japan
"Pocket Forests - increasing urban biodiversity above and below ground."
Ashe Conrad-Jones and Catherine Cleary, Pocket Forests, Ireland
"Making Authentic forests using the Miyawaki Method in India "
Shubhendu Sharma, Afforestt, India
"Post-disaster Landscape Reafforestation Projects in Hoshino and Hiraenoki, Japan"
Ass Prof Kazuo Asahiro, Kyushu University, Japan
PANEL: All Session Speakers with Chair Dr Scott Hawken
DAY 2, Tuesday, June 7th
Smart Cities, Green Infrastructure and Biodiversity
Evening Session, Starting time 4pm, ACST, 2hr 30mins duration
Day 2 of the symposium will focus on the topic of Smart Cities, Biodiversity and Green Infrastructure with participants from Australia and globally. This day two of the symposium discusses technological opportunities and risks in supporting urban biodiversity and the living dimensions of cities covering a range of technologies such as AI, Lidar, GIS, and robotics. Smart Cities approaches have shown promise in demonstrating how emerging digital technologies can address sustainability challenges. Whilst citizen-centric approaches to smart cities are becoming more common, the more-than-human aspects of smart cities remain peripheral. Participants will discuss how to prioritize and nurture biodiversity in today's Smart Cities. This session supports the publication of a special issue in Sustainability journal.
https://www.mdpi.com/journal/sustainability/special_issues/Smart_Cities_Biodiversity_Infrastructure
Session 3
1. Title: Smart Cities and Biodiversity- Protagonists or Unlikely Allies?
Authors: Amy Hahs; Scott Hawken
Affiliation: School of Architecture and Built Environment, The University of Adelaide, South Australia 5005, Australia, School of Ecosystem and Forest Sciences, The University of Melbourne, Victoria 3010, Australia
2. Title: Artificial Intelligence for Promoting Multispecies Cohabitation: A Bird's Eye Simulation Approach
Authors: Stanislav Roudavski
Affiliation: Melbourne School of Design, The University of Melbourne, Victoria 3010, Australia
3. Title: Taking Care: Data Custodianship and Collaboration for Biophilic Cities
Authors: Sarah Barns
Affiliation: School of Architecture, Design and Visual Arts, Queensland University of Technology, Brisbane 4000, Australia
PANEL - Chair / Moderator – Dr Scott Hawken
BREAK - 10 minutes
Session 4
4. Title: Towards a Holistic assessment of Urban Greenery in Space and Time: new methods and smart technologies
Authors: Carlos Bartesaghi Koc
Affiliation: School of Architecture and Built Environment, The University of Adelaide, South Australia 5005, Australia
5. Title: Biodiversity and Ecosystem Services for Disaster Resilience in Smart Cities: The Case of Urban Areas Prone to Tsunami in Chile
Authors: Mariana Bruning; Paula Villagra; Horacio Samaniego.
Affiliation: Institute of Environmental and Evolutionary Science (Instituto de Ciencias Ambientales y Evolutivas), Science Faculty, Universidad Austral de Chile, Valdivia, Región de Los Ríos, Chile
6. Title: Drone Applications in Japanese Landscape Architecture : present and future considerations
Authors: Kazuo Asahiro
Affiliation: Faculty of Design, Kyushu University
7. Title: Botanic Gardens, Biodiversity and Digital Twins: Digitalizing Biocultural Landscapes
Authors: Jack Barton, Scott Hawken, Carlos Bartesaghi Koc, Max McQuillan, Sisi Slatnova.
Affiliation: School of the Built Environment, The University of NSW, Sydney, Australia
PANEL – Chair / Moderator – Dr Amy Hahs
End of Symposium
Major Sponsor:
The Australia Japan Foundation, Department of Foreign Affairs and Trade
Event Partner:
Green Adelaide, National Park City Month
Symposium organizers:
Scott Hawken, Namrata Joshi-Vishwasrao, Kazuo Asahiro, Masakazu Tani, Zhuocheng Gu, Kate Delaporte, Tanya Court
Symposium supporters:
Jurlique International, Taylor Cullity Leathlean, Aspect Studios, Juon Network, Retallack Viticulture, Resilient South, Tetsuya Ukai Architecture, UTS Sydney, Waite Institute, Waite Arboretum and Gardens.