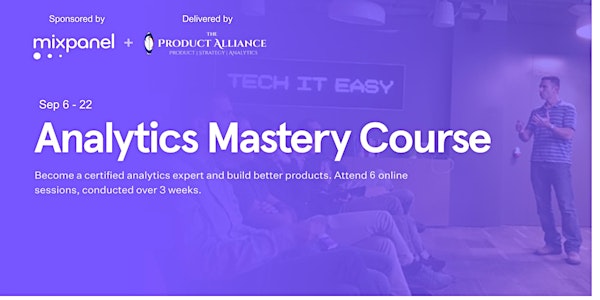 Mixpanel Analytics Course (inc. certification)
A 6 session, live, online course, aimed to go beyond just the techniques, to reach the strategy behind a great Analytic process.
Refund Policy
Refunds up to 1 day before event
About this event
Best-in-class product growth and monetization comes from analyzing data quickly and effectively to make great decisions. At the heart of this competency is the mastery of a market leading product analytics tool like Mixpanel - the recognized leader in Product Analytics, with the most advanced analytics and fastest feature development in the market.
Sponsored by Mixpanel and delivered by The Product Alliance - We introduce the 4th edition of our Mixpanel Analytics course and Official Certification.
What to expect:
The course consists of 6 online sessions conducted over 3 weeks beginning on September 6th, and concluding on September 22nd. Online sessions are 60 minutes in length and are conducted each week on Tuesdays and Thursdays at 7 pm UK time / 9 pm Israel time / 11:30 pm India time.
Each lesson will include time for a Q&A discussion as well as a homework assignment. Assignments will typically require 20 minutes and will be reviewed and discussed in the following session. Upon completion of the course, students will have the opportunity to take the online certification exam. Graduates who pass the exam will receive an official certification diploma and will be granted the Mixpanel Analytics course graduate badge, to add to their LinkedIn profile.
A new module to the course will introduce the participant to add value and leverage the capabilities of integrations with external platforms. More specifically, event-based push and in-app messaging capabilities.
Who is the course for:
Product Managers and Product Analysts, who understand planning, implementation, and analysis of Analytics data, is part of their role they can and should master.
Those who are debating which Analytics platform to choose.
Those who are expecting to go beyond the platform features, and learn how and where to use them in a manner that would truly allow them to understand users' behavior.
Those who understand that asking the right question, based on understanding the platform capabilities, IS the most critical part of transforming information and insights into decisions and actions.
Speakers:
The course will be led and conducted by:
Yoav Yechiam. Strategic Product consultant at the Product Alliance and a globally recognized expert in the field of Product and Behavioural Analytics.
Alon Binman. Product Analytics Expert at Mixpanel.
Agenda:
Session 1: INTRODUCTION & ANALYTICS STRATEGY - Yoav Yechiam | Product Alliance
Session 2: ASKING THE RIGHT QUESTIONS + CORE REPORTS - Yoav Yechiam | Product Alliance
Practical use cases. Examples of how and why
Data model, user, and event properties
Core reports: Insights, Dashboard
Session 3: CONVERSION - Alon Binman | Mixpanel
Conversion: Funnels, Flows and Cohorts (integration with messaging)
Better understand user journeys and understand what is driving conversion/drop off, groups users together for engagement and deeper analysis.
Session 4: RETENTION - Alon Binman | Mixpanel
Retention + Signal , cohorts
What is causing high retention and how to better understand what behavior is driving positive or negative actions
Session 5 : ADVANCED FEATURES - Alon Binman | Mixpanel
Going beyond the 'bread & butter' of Mixpanel's capabilities and going into advanced features, capabilities, and best practices
Session 6 : QA & VALIDATION + FINAL EXAM - Yoav Yechiam | Product Alliance
What can go wrong and how to find it in time
The certification exam
* All participants will be entitled to a 30-minute one-on-one consulting session with the course lead Yoav Yechiam (to be booked before or after the course)
** Lessons will be conducted in English
A few quotes from students of previous courses:
- "I got terrific insights from this course. I've been using Mixpanel for a year now and I wasn't aware of all the possibilities the course presented."
- "The course was eye-opening for me as a product struggling to be more data-oriented and was also extremely helpful from the technical side. I've learned a lot and enjoyed it. Thank you!"
- "Thank you, I would recommend this course to everyone in our company! "
- "I'm glad I found Mixpanel <3 This will be my new career swiss-army-knife"
- "really interesting - good time frame for a course (6 sessions, 1hr each is great). speakers were easy to follow and engaging to listen to"