Mixology 101 Course

Multiple Dates
Event Details
Learn how to create the classic Takito margarita.
 This mixology course will be led by Takito's resisdent mixologist Adam Weber.  
This event will be held at Takito Kitchen (www.takitokitchen.com) at 2013 W. Division St., Chicago, IL 60622 on Tuesday, Nov. 5 and Nov. 19.  Limited tickets are available for both dates.  Light appetizers will be served during this event.  Please email info@takitokitchen.com or call Takito at 773.687.9620 if you have any questions.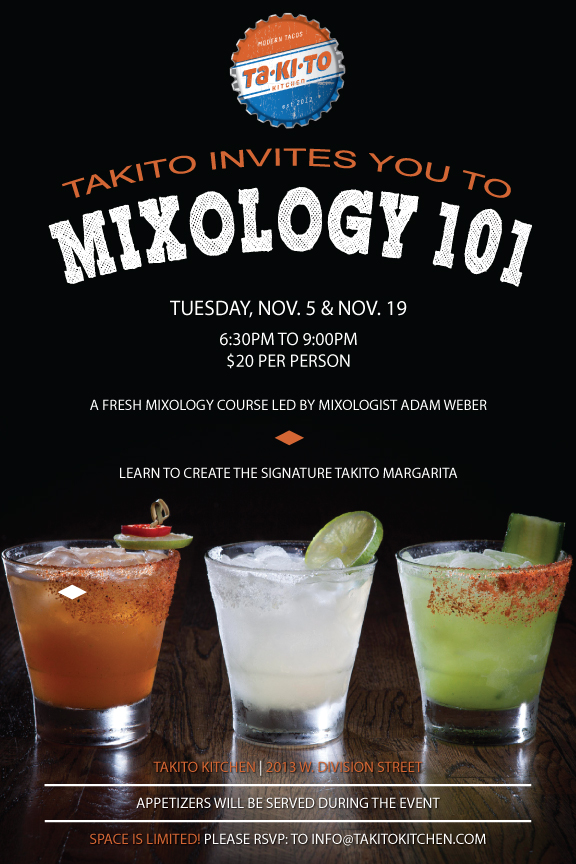 Organizer
Located at 2013 West Division in Wicker Park, Takito Kitchen features Mexican-inspired cuisine created by Executive Chef/Partner David Dworshak and a complementary beverage program led by GM/Partner Adam Weber. The menu features seasonal shared plates, ceviche, tacos, soups and more with a focus on fresh ingredients and complex flavors, all tucked inside a homemade tortilla.
"Our food is seasonal and will support local farmers and producers. Our main focus of artisanal tacos lends itself to endless possibilities of ingredients, accompaniments and salsas. Aside from tacos, our plates are intended for sharing, geared towards a more creative and healthier style of Latin American food." – Chef David
Focusing on craft cocktails, the Takito drink program features margaritas and cocktails centered around various high-end tequilas and rum in addition to Latin beers, and wines. Takito plans to serve bottled, house made agua frescas and possibly sodas, sealed with their signature logo bottle cap
The space is industrial and modern featuring an open bar and kitchen and offers seating for approximately 80 people. Designed by D+K Architects and Interiors, the room includes an old skylight, long-cement bar, handcrafted maple benches, distressed cedar wood tattered with ebony stains, street art by local Chicago graffiti artists, and custom antique-style lighting. The open bar and kitchen design allows the culinary and bar staff to closely interact with the guests providing them with a heightened dining experience.