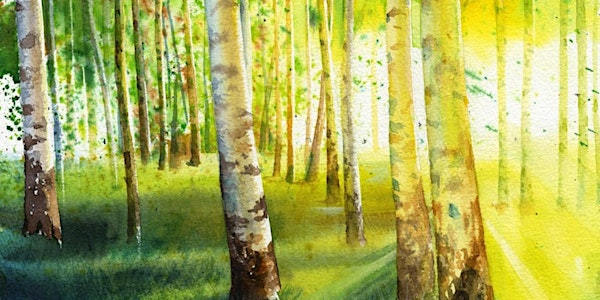 Mixing Green, Painting Trees in Watercolour – Tree Fayre
Have you ever wondered why you struggle mixing colour to achieve that green you had in mind?
About this event
In Collaboration with The Folk Forest - Tree Fayre, Sheffield;
In this workshop you will learn watercolour painting techniques to better represent trees. We will start off the session by practicing using intuitive colour wheels to learn how to mix different shades of green.
Sunday 19th July
1.00pm - 3.00pm
£15
Zoom Link Coming soon!
The online workshops will start with a drawing/painting tutorial by Flora followed by art practice & support throughout
Suitable for all abilities & absolute beginners
Materials: You will receive a list of basic materials needed
Inspiration Images: Participants will receive an email with inspiration images to chose from but are welcome to use personal photographs or their garden as inspiration.
Zoom
The sessions will be hosted through Zoom.
Download the Zoom app. If you haven't zoomed before don't worry, it's not complicated. A little blue camera symbol will pop up on your phone, pad and laptop. I will send you a link invite via email and a password to get in.
I will start the session 15mins before the official start of the workshop. This will give us an opportunity to iron out any technical difficulties if there are any.
Looking forward to seeing you!
Any questions don't hesitate to get in touch with Flora Ménager:
tel: 07379071336
email: lifeinterpretedstudio@gmail.com
website: https://lifeinterpreted.net/
Materials List
- Inspiration images or view of tree looking at the window or in your garden
- Watercolour paper or thicker paper (a couple sheets)
- Watercolour paints, either in pans or tubes. You'll need 2x different blues / 2x different yellows. Your choice of which kinds.
- Suggested blues: Ultramarine & Phthalo blue
- Suggested yellows: Cadmium yellow & Lemon yellow
- Tissue (paper towel, tp)
- Rubber / Pencil
- Sponge can be a sea sponge or any sponge you have
- Cup for water
- Palette or white plate
- Brushes (a variety of sizes and shapes)
- Painters tape
- Scrap paper to text colours
*Optional Materials
- Blade or pocket knife
- Cling film
- Spray bottle
- Pipette
- Coarse sea salt or table salt
- Piece of clear or white candle OR masking fluid