Connect with East Bay-based DIY performance and curatorial collectives at an in-person mixer at Township Commons in Oakland, CA.
About this event
A party! A gathering! A chance to be outdoors and in community with others who just wanna do their own thing!
This outdoor gathering is a chance for all Bay Area-based DIY collectives or curious creatives to come together for socializing in a casual, in-person setting. Drinks and snacks will be provided by CounterPulse at Township Commons in Oakland. Folks are encouraged to invite friends and comrades as we build connections, share strategies, and deepen resolve for doing it ourselves in community.
To safely observe social distancing, this outdoor event will be capped at 50 attendees. All attendees will be expected to pre-register!
This event will be preceded by a virtual discussion on CounterPulse's Twitch channel on Friday, September 10th, 2021 from 12-1:30pm.
RSVP to both through CounterPulse's website here!
This event is part of the 2021 CounterPulse Festival. Learn more at COUNTERPULSE.ORG/FESTIVAL2021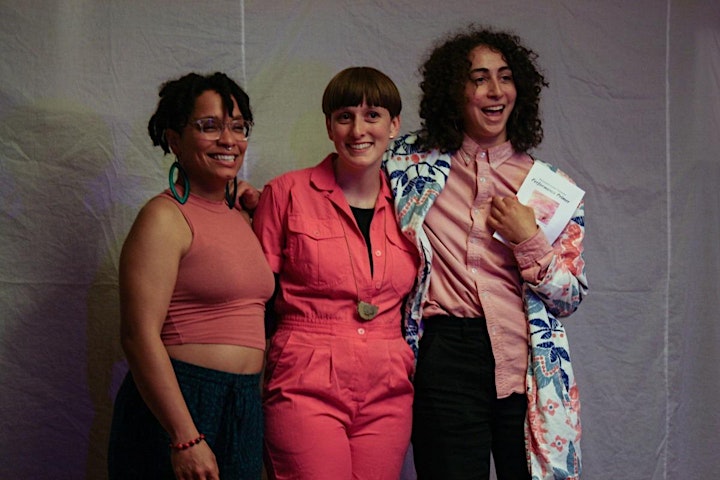 The Primers is an Oakland-based, grassroots collective serving early-career creatives. Grounded in a DIY sensibility, Primers ask: what do local artists need? The Primers grow in direct response to continued evidence that our East Bay creative scene needs accessible performance space, a caring community, and production support to thrive. In our constantly evolving context, we provide fluid structural support to artists of all kinds. The Primers team listens to artists' needs because we are the artists we serve. We are intentionally based and remain in Oakland, Ohlone territory: a Black city with a legacy of radical mutual aid, deconstructing oppressive systems, and fostering artistic abundance; principals that we align with in our work.
blaQyard is a nascent collective of Black, queer, low-income artists living on Ohlone land in the Frutivale neighborhood of Oakland, CA. We are dancers, photographers, performance artists, singers, herbalists, music producers and multidisciplinary creators in various mediums.
We are transplants to the Bay Area who chose to live here for the communities we formed and to pursue creative careers, often without financial or housing stability. In light of the ongoing pandemic that has forced us to create new lives inside, and the global resistance against anti-Black capitalist politics that destroy the planet, we feel called to return our home to the community as a land-based collective, hosting arts-based events for and by the people.
We are developing blaQyard into a space where not only is the land a collaborator in the work, but our neighbors, friends, colleagues, elders, and young people are as well. We intentionally cultivate a creative space where we form new relationships with the land we live on and with each other.
casaa is a playground since 1997. A planet of creativity. Home. A ceremony. An everything and a nothing. Infinite collaboration that transcends time and space between g y s. Mutants changeable mutable. An eternal friendship. Our intimacy allows us to question our human condition and explore the unconscious in a vulnerable and irrational way. Dance and Performance = PORTALS. Play is a spiritual practice. We dance to remember. We create to honor our ancestors!!!
Ritual Rhythm Reverence Repeat Ritual Rhythm Reverence Repeat
The QTBIPOC Performing Artist Hive envisions and ignites a multi-modal/multi-dimensional thriving ecosystem of QTBIPOC performing artists through nurturing relationships, sharing resources, and building power among Black, Indigenous, queer and trans artists of color on unceded Ohlone land ( San Francisco Bay Area).
Oaklash hosts a weekend-long festival of drag and other queer performance that takes place annually in Oakland, California.
Founded by Beatrix LaHaine and Mama Celeste in 2018, Oaklash has featured hundreds of queer performers from the Bay Area and all around the world.
Oaklash is dedicated to building new and ever-expanding stages to showcase & elevate Bay Area queer talent. Our programming aims to create safe and accessible environments that celebrate the queer community, especially queer and trans people of color. Our organization was created to showcase performances that are boundary pushing, provocative, and unique to the sensibility of the Bay Area. We aim to stay true to the history of Oakland as a home to creative renaissance rooted in diversity. We hope that by amplifying and supporting the queer art community in the Bay Area, we can emphasize the need for investment in the arts in the face of systemic racism, growing economic disparities, and the Bay Area housing crisis.
COVID-19 Safety Protocols
1. Attendance for this event will be capped at 50 people max.
2. All attendees will be expected to pre-register.
3. All audience members and staff will be expected to wear a mask, regardless of vaccination status, unless they are actively eating or drinking.
4. All attendees will be asked to complete this COVID-19 Waiver and be sure that they are not feeling sick before coming.
CounterPulse is committed to making our events accessible to all! Please email info@counterpulse.org with any access needs. Thank you!
This event made possible with support from HMD's Community Engagement Residency, a program of The Bridge Project.
Organizer of Mixer: Queeratorial Collectives Do It Themselves