Description
Mix-Odyssey 2016
3rd Annual Mixology Contest
Benefitting Volunteer Odyssey
Grab your passport and experience premier craft cocktails from 7 mixologists representing bartenders and hobbyists from across the city.

Visit our "fortune tellers" and they'll predict where you volunteer in the future.
---


Mix-Odyssey Tickets
Mix-Odyssey Tickets include:
- Event passport
- 7 Cocktail samples from 7 mixologists
- One token to vote for your favorite mixologist
- Food pairings from Whole Foods
- Beer from Wiseacre
Southland Park VIP Tickets (SOLD OUT)
Tickets Feature:
- Golden Event passport
- 10 Cocktail samples from 7 mixologists
- VIP area with additional seating
- Wine in the VIP area
- Skip the lines! Serving staff to fast-track your drinks
- Two tokens to vote for your favorite mixologist
- Food pairings from Whole Foods
- Beer from Wiseacre
---


Meet our Mixologists
Miles Epley (Cafe Society)
I love Memphis and making cocktails. A proper drink at the right time—one mixed with care and skill and served in a true spirit of hospitality—is better than any other made thing at giving us the illusion, at least, that we're getting what we want from life. A cat can gaze upon a king, as the proverb goes, and after a Dry Martini or a Sazerac Cocktail or two, we're all cats."

Aaron Hanna (Hog and Hominy)
Head Bartender at Hog and Hominy, explorer, fact investigator, snowboarder, music nerd, beer snob, dog lover, midtowner, Indiana Jones of flavors, old Hi-Tone alumni, Maywood high dive '86, denim warrior, motorik junkie, Lil Sebastian, architect of taste, smoother of edges.

Daniel Lynn (SOB)
Daniel Lynn began his career in cocktails in 2002 while working at Gordon Biersch Brewery Restaurant in downtown Memphis which is also where he gained knowledge of craft beers and basic spirits. In 2004, he then began bartending at Swig Martini Bar. Swig's extensive drink list, a featuring 34 different martinis, provided valuable experience and skills. Daniel now mixes libations at South Of Beale, Memphis' first Gastropub. Since 2009, Mr. Lynn has helped create successful cocktail menus that rotate quarterly to utilize seasonal ingredients.

Andrew Ratts and Matt Lexow (Hobbyists)
Andrew: I am in the Air National Guard and a K-5 teacher. But when I am not teaching I enjoy manipulating food and drink recipes for friends and family.
Matt: Matthew Lexow was born in the cattle strew lands of Kansas. There he discovered the joy of a good drink while studying history and philosophy as an undergraduate. His introduction to craft cocktails came at the hands of his now brother-in-law who, for a time, owned a Tiki bar in Tacoma, Washington. Since those early days of determining what was to be shaken and what was to be stirred, Lexow has experimented at home making his own bitters and tonic syrups, testing the limits of spirit infusions, investing in a wide selection of bitters and fortified curiosities, and plumbing the depths of a number of cocktail recipes and histories. When not playing around in his libation lab, Lexow likes to read Foucault and listen to the Clash. If its not a mixed drink, you can probably find him drinking a Islay whisky or a California Zinfandel.
Cady Smith and Stephanie Waugh (Cafe Pontotoc)
Cady Smith and Stephanie Waugh are two textbook Virgos that have a passion for experimenting and learning something new everyday in the art of mixology. Their "laboratory" resides on South Main behind the whimsical bar at Cafe Pontotoc. Stephanie is mom to Dominic and Lucy, and Cady is the proud adoptive parent to her cat, Potato.

Grant Whittle (Hobbyist)
F. Grant Whittle is a dedicated amateur cocktail historian and traveler. He prefers the classics, and likes his cocktails stirred, not shaken, unless it's an old-school Mai Tai. His favorite bar is the one he is in.

Ben Williams (The Cove)
Ben Williams, born and raised in Memphis, TN. Attended the Maria Montessori School, Christian Brothers High School, and University of Memphis. Tend bar at The Cove and Alchemy.

---
Sponsors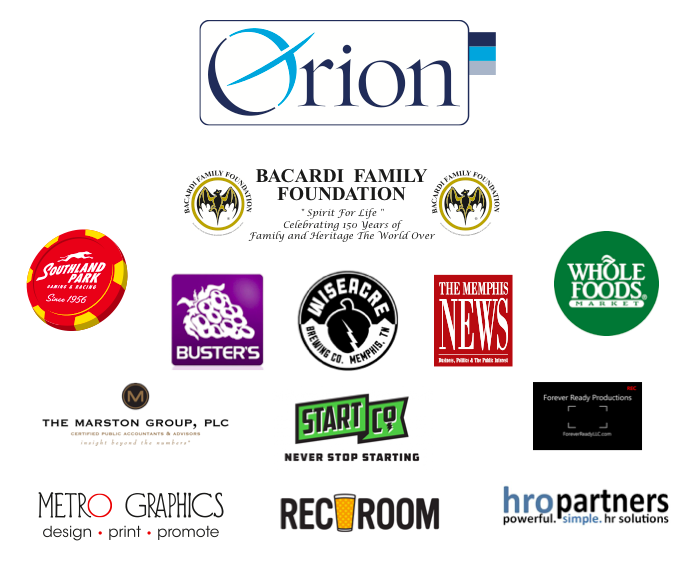 ---


Host Committee

David and Emily Brackstone
Zoey Phelps-Bergeron and Kera Bergeron
Penelope and Allan Fisher
Kenn GIbbs
Olivia Buffington Hammond and Mike Hammond
Molly Polatty
Lauren and Scott Ready
Keeley Seniuk and Patrick Tolivar
Joe and Beverly Vari
---


FAQs
How does the event work?
You will receive a passport with 7 available spots for stamps (or 10 spots for VIP tickets). This passport will be stamped at each of the 7 mixology stations. Each drink features a specialty combination of ingredients provided by Bacardi and Busters. Each cocktail will be paired with an appetizer created by the team at Whole Foods and you'll also have access to beer from Wiseacre. At the end of the night, use your wooden token and cast your vote for your favorite mixologist. Along the way, visit our "fortune tellers" who predict where you'll volunteer in the future.

What does a VIP Ticket Include?
A VIP ticket includes all the trappings of the standard ticket: 7 cocktail samples, food, and beer PLUS a VIP area, 3 additional cocktail tastings, and a serving staff that will fast-track your drinks.
What's the parking situation?
Behold! There is ample free parking at the event space in the attached garage. We also encourage you to take a cab, Lyft, or Uber to make sure you get home safely.
What's the minimum age?
Attendees must be 21+ and everyone will be carded upon arrival.
What's the attire?
A night out on the town! It's a party.
You've got questions?
We've got answers! Email us