Vietnam Veteran and author LARRY FREELAND discusses his new book CHARIOTS IN THE SKY. This is a free event. Come mix & mingle with Larry.
About this event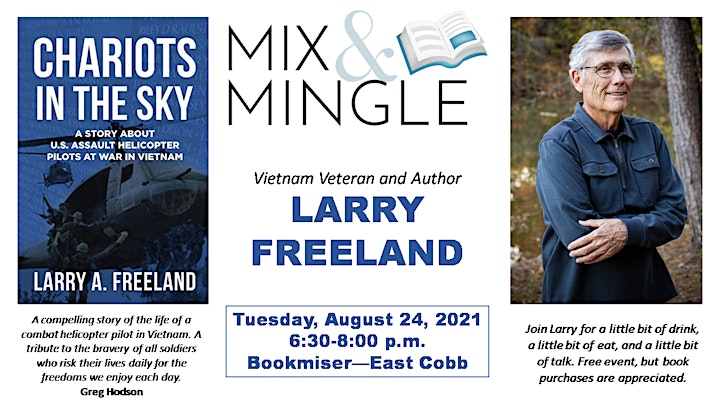 Chariots in the Sky
A dedicated U. S. Army Assault helicopter pilot in Vietnam just wants to do his job and return home to his wife and family. To do so, he has to survive harrowing combat missions, bad weather, mechanical problems, human error and a commander who is more interested in personal glory and promotion than his men's well-being. Along the way he participated in the last major American combat operation of the war. Lam Son 719, a major incursion into Laos, lasted sixty days and was the costliest period of the war for helicopter pilots and crew members. This is his story.
LARRY FREELAND is a resident of Dawson County, Georgia. He was born in Canton, Ohio and raised across this country. After graduating from College, Larry joined the US Army. He served one tour in Vietnam with the 101st Airborne Division and was awarded several military service medals. Upon leaving the service in 1973, he returned to civilian life and pursued a career in the Financial Industry for 32 years. He was an instructor in the Management and Leadership Development Program with Lanier Technical College for 6 years. He is now retired and stays involved in various community activities.
Organizer of Mix & Mingle with LARRY FREELAND, Vietnam War Veteran and Author