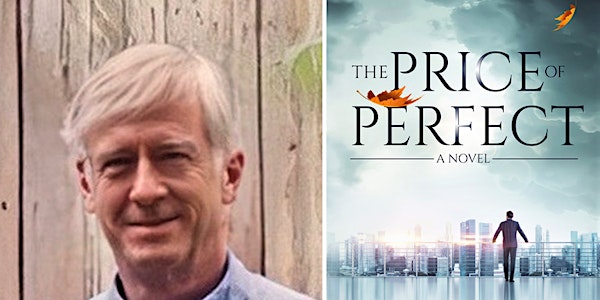 Mix & Mingle: Author WILLIAM "DUB" ANDERSON Discusses THE PRICE OF PERFECT
Location
Bookmiser-East Cobb
3822 Roswell Road
ROSWELL RD. @ ROBINSON RD.
Marietta, GA 30062
Join a Mix & Mingle with local author WILLIAM "DUB" ANDERSON as he discusses his book THE PRICE OF PERFECT
About this event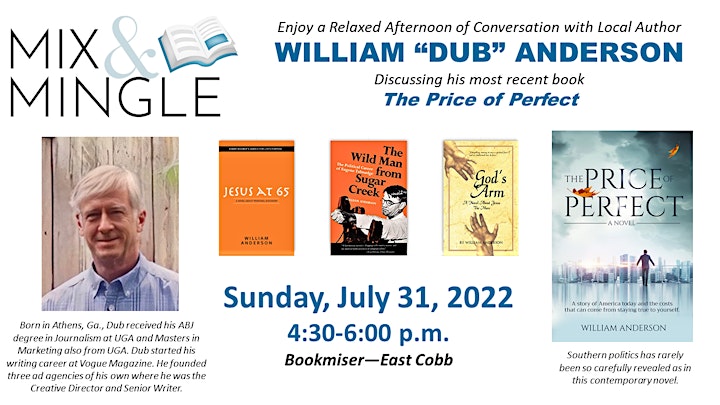 About William Anderson
William, nicknamed "Dub", was born in Athens, Ga. He received his ABJ degree in Journalism at the University of Georgia with a Masters in Marketing also from UGA. Dub started his writing career at Vogue Magazine. He went from there to become a copywriter for several advertising agencies. Over the next several years, he founded three ad agencies of his own where he was the Creative Director and Senior Writer.
About the Book
Southern politics has rarely been so carefully revealed as in this contemporary novel. In The Price of Perfect, Atlanta's oppressive racial past rises up to threaten the reputation of controversial architect Jack Collier. He feels he and his friends are the best of people living in Buckhead, Atlanta's most prestigious suburb.
Jack is determined to create his greatest achievement in life--a magnificent building in the community of Vinings that defies the imagination by literally opening and closing like a flower. Jack will dedicate the building to Atlanta, a city that believes in the future more than its past. But social justice advocate Shandra Berry discovers a Black man had been hanged on a towering oak tree that still stands on the property in the community of Vinings. She demands Jack save the oak as a memorial to the thousands of Blacks hanged during a dark time in America's history.
Jack refuses. Saving the tree would mean redesigning his "building for the ages." Shandra accuses Jack of being a racist, hiding behind years of financial support he has given Atlanta's Black charities. Jack's reputation is attacked by woke social media. And something even more damaging is at stake. The loyalty of his wife and best friends is being tested by the anger in the accusation of racism being hurled at Jack. They fear their reputations can be ruined if they remain loyal to this man they love. Their agonizing over the price of loyalty becomes a metaphor for the current struggle over race in America.
Can Jack and Shandra reconcile over the explosive racial issue before Jack's dream is destroyed?
Their challenge is America's challenge.
What price are we willing to pay for our truths? And how much should we allow the past to rule the present?
Praise for The Price of Perfect
William Anderson has written a powerful story that chronicles the conflict between a modern-day Atlanta developer and the preservation of a historic site rooted in the city's dark history. The Price of Perfect addresses our modern-day racial issues with a deft hand opening for discussion about today's culture wars. It is a story you will remember for its balance of both sides of the issue. —Jim, Harvey, author of Grayton Beach Affair
A timely, explosive, and powerful story portraying the challenge of the racial divide in today's America. Anderson paints unforgettable characters and scenes with the brush of a poet. - Jameson Gregg, Georgia Author of the Year, author of Luck be a Chicken
I found William Anderson's new book thoroughly entertaining, all the while addressing an uncomfortable subject — racism. His approach to the story had me rooting for nearly all parties, which I concluded was because he did such an extraordinary job of balancing both sides of this extremely complex, difficult issue. He knows Georgia and the area around Atlanta well so brought the story beautifully alive by being able to describe each setting in meticulous detail. It's a great read and a terrific choice for book clubs—especially here in the South. - M. Ann Martin
Weeks after reading William Anderson's newest novel The Price of Perfect, I am still thinking about it and the questions and dilemmas it posed for readers. How can we ever reconcile the black vs. white historical experiences in a country where mainstream and social media are breathlessly awaiting the next match that will light another fire of anger and hatred? Where does the quest for beauty and artistic expression fit into the maelstrom of our current political and social environment? Is compromise the best solution or does it merely provide a temporary respite from a difficult situation that continues to fester? Anderson presents these questions in the form of a thoroughly enjoyable novel that is both entertaining and thought-provoking. - Jacque R.