Event Information
Location
MIT Media Lab
75 Amherst St
Bldg E14
Cambridge, MA 02142
MIT Africa Innovate Conference brings together top leaders, entrepreneurs and change agents from across Africa and the diaspora.
About this event
The theme for the 11th Annual Africa Innovate Conference is "A Way Forward: Leveraging Innovation as a Catalyst for Growth".
The conference will highlight the innovative approaches companies used to overcome the challenges presented by the pandemic, and simultaneously look at the future of the continent and Africa's growth.
The 2022 MIT Africa Innovate Conference includes keynotes from renown leaders & entrepreneurs, panel breakout sessions, a pitch competition and networking events.
The conference will accomodate in-person and virtual attendance.
The conference ticket includes full conference access, networking lunch & happy hour, and an evening party featuring Ladipoe!
Resume book
To be included in the resume book which will be shared with our corporate partners such as Paystack, Max.ng, Charter Cities Institutes, Rand Merchant Bank, MIT Legatum Center for Development and Entrepreneurship, MIT Sloan Student Life, and Rand Merchant Bank please upload your resume here .
Agenda
8:00 - 8:15 AM: WELCOME NOTE
8:15 – 8:45 AM: KEYNOTE with Efosa Ojomo, Director of Global Prosperity, Clayton Christensen Institute for Disruptive Innovation
8:55 - 9:50 AM: PANEL BREAKOUT SESSION 1
LEADERSHIP PANEL: Hacking African Leadership - Technology, Innovation and Service with Dr Jumoke Oduwole, special advisor to President of Nigeria; Kissi Agyebeng, special prosecutor of the Republic of Ghana; Suzanne Bellue, PhD candidate at the University of Mannheim; Samson Itodo, Executive Director of Yiaga Africa; and Paula Ingabire, Minister of ICT and innovation of the Republic of Rwanda.
OR
HEALTHCARE PANEL: Hacking for Inclusion - Modern Healthcare in Africa, Bringing Access to Remote Communities with Nikhil Pereira-Kamath Founder of Africa Healthcare Network; Jessica Oyugi, Associate Director at Dalberg; Femi Kuti, Co-Founder of Reliance Health; Brice Kitio, Founder of WiiQare and Ernest Okot Founder Safarishare.
OR
FINANCE & INVESTMENTS: Unlocking the potential of the informal economy with Shruti Chandraskhar, Head of PE/VC Africa at the IFC; Karrim Hussein, MD/Founder of Algebra Ventures; Peter Orth Founder and Partner at 4DX Venture; Mareme Dieng, Africa Lead for 500 Global; Maxime Bayen, Senior Venture Builder at BFA Global; Jørn Lyseggen, Founder and Executive Chairman of Meltwater Entrepreneurial School and Omosalewa Adeyemi, Senior Vice President, Market Penetration, Flutterwave.
10:40 - 11:35 AM: PANEL BREAKOUT SESSION 2
EDUCATION: Driving Accessibility to Scale - A Multistakeholder Approach with David Sengeh, Minister of Education of Sierra Leone; Veda Sunassee, Head of Colleges at the African Leadership University; Audrey Cheng, Founder of Flourishing Humans Lab and Moringa; Daniel Dotse, Founder and CEO of Lead for Ghana; Krista Davidson, Executive Director of Injini; Sophie Nzinga Founder of Dakar Design Hub; and Dina Sherif, Executive Director of Legatum Center for Development and Entrepreneurship.
OR
AGRICULTURE & FOOD SYSTEMS : Actionable Insights - Scaling Sustainable Agriculture & Food Systems in Africa with Lindelwa Farisani , Alloysius Attah, Founder and CEO of Farmerline; Ajanoh Pelkins, Founder & CEO of CassVita; Anne Maria Makhulo, Deputy Director Strategy at Bill & Melinda Gates Foundation ; Yuan-Ting Meng, Investment Lead -Africa, SOSV ;
11:35 - 12:25 PM: NETWORKING LUNCH
12:25 - 1:35 PM: PITCH COMPETITION & AWARDS CEREMONY
1:45 - 2:15 PM: KEYNOTE with Aminata Kane CEO & Board Member, Orange Sonatel, Sierra Leone.
2:25 - 3:20 PM: PANEL BREAKOUT SESSION 3
TECHNOLOGY PANEL: Going Digital - Spurring Impact through Innovation and New Technologies with Olajumoke Oduwole, Nefe Etomi , Strategy & Finance at Paystack; CEO of Alajo; Lexi Novitske, Managing Partner, Acuity Venture Partners; Khalifa M Fall, CEO of KMF Technologies; Victor Mapunga, CEO of FlexID Technologies; Jacob Fohtung, Research Associate at the Clayton Christensen Institute and Carl Manlan, Vice President of Inclusive Impact & Sustainability, CEMEA.
OR
MOBILITY PANEL: Creating a more interconnected Africa with Tsehop Kgobe, COO of Gautrain Management Agency; Paula Canovas, Chief of Staff at JetStream Africa; Anthony Ndolo, Founder of Smatbeba; Christopher Maara, Founder of Kiri EV; Sherif Nessim, Founder and Manager Partner at Jedar Capital; and Jessica Poku, Global Partner Operations Lead at Uber.
3:20- 3:50 PM: COFFEE BREAK
3:50 - 4:45 PM: PANEL BREAKOUT SESSION 4
ARTS, ENTERTAINMENT & CULTURE PANEL: Amplifying African Voices with Jason Njoku, Founder, Investor, Advisor and & CEO of iROKO Partners; Duke Ugeh, CEO of DukeConcept; Diarra Bousso, Founder and Creative Mathematician at Diarrablu; Lethabo Gumebe, Founder of Empowering the Art; Jibolu "J.G." Ayodele II, CEO of Playmaker Entertainment; and Sandra A. Babu-Boateng Co-Founder & CEO of LegacyShift/Face2Face Africa and PanaGenius.
OR
REAL ESTATE & INFRASTRUCTURE: Molding African Cities through Sustainable Innovation with Ndifreke Ikokpu, CoFounder of House Africa; Miriam Maina, PhD Researcher on Urban Planning at the University of Witwatersrand; Issa Diabate, Chief Architect and Founder of Koffi & Diabate Architects; Tesi Rugasara, Managing Director of the Kigali Innovation City; Jon Vandenheuvel, Senior Advisor for Africa at Charter Cities Institute.
4:55 - 5:25 PM: CLOSING KEYNOTE with Olugbenga "GB" Agboola, CEO of Flutterwave.
5:30 - 6:30 PM: NETWORKING RECEPTION
9:00 PM - 1:00 AM : EVENING AFTERPARTY WITH LADIPOE!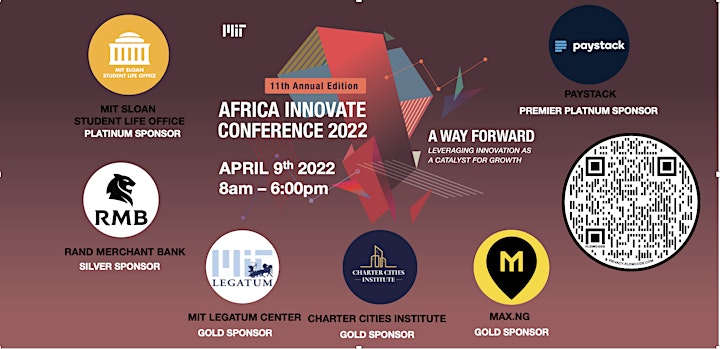 Date and time
Location
MIT Media Lab
75 Amherst St
Bldg E14
Cambridge, MA 02142