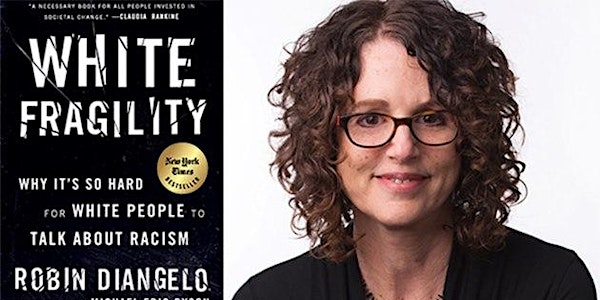 MIT Registration: Robin DiAngelo, White Fragility
When and where
Location
Kresge Auditorium W16, 48 Massachusetts Avenue Cambridge, MA 02139
Description
Due to high interest, this event has been moved to Kresge Auditorium at MIT.
Getting to Kresge Auditorium
The Kresge Auditorium is accessible by public transportation. Take bus # 1 from Harvard Square to the MIT Campus or take the redline train to the Central Square MBTA Station, walk south on Mass Ave towards Boston (past Vassar Street), and the auditorium will be on your right.
Check-In Process
On the day of the event, doors will open at 12:15. Please arrive and be seated by 12:45 p.m. Seats that are not occupied by 12:45 p.m. will be assigned to guests on the waiting list.
Cancellations
Given the interest in this event, we kindly ask that you notify us as soon as possible if you are no longer able to attend so that we can release your seat to someone on the waiting list by contacting us at abarros@cambridgema.gov or 617-349-4409.
Accessibility
ASL interpretation services will be provided. If you require additional accessibility aids, contact us at abarros@cambridgema.gov or 617-349-4409.
**Registration will close on January 15, 2019 at 11:59 pm**
Dr. DiAngelo is Affiliate Associate Professor of Education at the University of Washington. In addition, she holds two Honorary Doctorates. She is a two-time winner of the Student's Choice Award for Educator of the Year at the University of Washington's School of Social Work. She has numerous publications and books. In 2011 she coined the term White Fragility in an academic article which has influenced the international dialogue on race. Her book, White Fragility: Why It's So Hard For White People To Talk About Racism was released in June of 2018 and debuted on the New York Times Bestseller List. In addition to her academic work, Dr. DiAngelo has been a consultant and trainer for over 20 years on issues of racial and social justice.

White people in the U.S. live in a racially insular social environment. This insulation builds white people's expectations for racial comfort while at the same time lowering their stamina for enduring racial stress. DiAngelo terms this lack of racial stamina "White Fragility." White Fragility is a state in which even a minimal challenge to the white position becomes intolerable, triggering a range of defensive moves including: argumentation, invalidation, silence, withdrawal and claims of being attacked and misunderstood. These moves function to reinstate white racial equilibrium and maintain control. This talk will provide an overview of the socialization that inculcates white fragility and provide the perspectives and skills needed for white people to build their racial stamina and develop more equitable and just racial norms and practices.