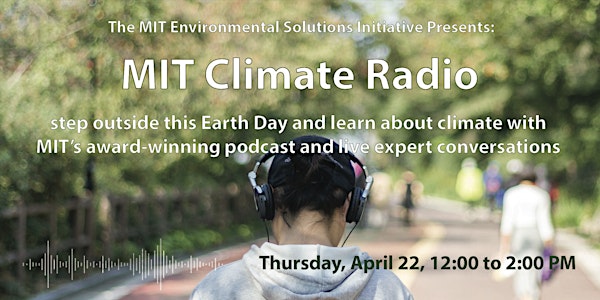 MIT Climate Radio
A call-in event featuring special guests, live audience Q&A, and some of our favorite episodes of the Today I Learned: Climate podcast.
About this event
This Earth Day, the MIT Environmental Solutions Initiative invites you to head outside, enjoy the spring air, and tune into a special broadcast of the TILclimate podcast!
TILclimate (Today I Learned: Climate) is MIT's award-winning podcast that brings you world-class experts on climate science and solutions, in 10-minute, jargon-free episodes. And this Earth Day, we'll be broadcasting four of our favorite episodes in a live, call-in event, inviting you to ask questions about the science of climate change and the work of climate communications.
We'll also have special guests, including Doug Parsons, host of the America Adapts podcast, who will emcee and lead the conversation; and three of the scientists and experts featured on the show. They'll be joined by TILclimate host Laur Hesse Fisher and producer Dave Lishansky, who together will take your questions about the subjects TILclimate has covered and what we think about when we try to bring the facts about climate change to a wide public audience.
This is an audio-only event, so you can tune in while you take a walk in your local park to celebrate Earth Day! Our four select episodes will air at these times:
12:00: TIL about hurricanes. MIT professor Kerry Emanuel, a world-renowned expert on tropical storms and the author of the MIT Climate Primer, breaks down what causes hurricanes, why climate change is making them worse, and how we'll have to adapt.
12:30: TIL about uncertainty. Kerry Emanuel sticks around to teach us about the models climate scientists use to predict the future of our climate, and the different ways we can think about risk as we take action to stop or adapt to global warming.
12:55: TIL about the electric grid. Harvey Michaels, a lecturer at the MIT Sloan School of Business and former energy company executive, explains the delicate system that delivers electricity to our homes, and all the moving pieces we have to think about as we transition to clean, carbon-free energy.
1:20: TIL what Americans think about climate change. In our newest episode, Georgetown University professor Parrish Bergquist, an expert in public opinion on environmental issues, gives us the latest on American beliefs about climate change, and what that means for the policies and politicians we vote for.
If you use the Chrome browser, you can livestream the event here. It will also be livestreamed to YouTube here, and as a Facebook event here.
Links for all methods of livestreaming this event will be emailed to those who register. By registering for this event, you agree to receive communications from the MIT Environmental Solutions Initiative about other environmental events and opportunities.
Poster photo credit: Emily Orpin via Flickr