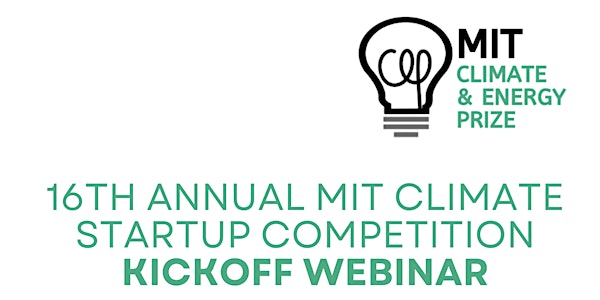 MIT Climate & Energy Prize Kickoff Webinar
Calling all climate entrepreneurs! The MIT Climate & Energy Prize is hosting an info-session to go over competition details and timelines.
About this event
Event Details: Join us from 7:30-8 PM ET on Tues December 6th to learn about the 2023 MIT Climate & Energy Prize. We will go over details about the event followed by a short interview with one of last years competitors.
Who We Are: The MIT Climate & Energy Prize is the largest and longest-running student competition for climate & energy startups. Receive mentoring, network w/ industry leaders, and compete for more than $100K in non-dilutive funding.
Who You Are: Whether you are actively launching a company, ready to take your research to market, or still kicking around ideas with your classmates, we want you to be a part of CEP 2023. We do require that 50% of your team are enrolled students and that you have not received more than $100K in funding prior to the application deadline (research grants are okay).
History: Since the competition launch in 2007, more than 800 startups competed, 270 startups received mentorship, $3.3M in cash was awarded, and competing companies continued to raise over $1.7B in follow-on funding.