【MIT-CHIEF Summit Dialogue】Supply Chain Opportunities in the Age of COVID19
MIT-CHIEF Summit Dialogue invites leading scientists and entrepreneurs to discuss the challenges, trends, and issues affecting technology.
About this event
Since the beginning of 2020, the COVID-19 pandemic has hit the world, causing a tremendous impact on economic activity and social development, and there has been a sharp decline in total global trade with prolonged economic disruption worldwide. We are currently experiencing a delicate period of geopolitical transformation and economic transition. As the global supply chain was inevitably brought to the brink of collapse, governments and multinational enterprises are confronted with a historic challenge to handle the complicated situation and settle the intractable conflict.
In this session of MIT-CHIEF Summit Dialogue, we invite experts and scholars in the field of supply chain research: Professor Yossi Sheffi, Elisha Gray II Professor of Engineering, Director of MIT Center for Transportation and Logistics, and Retsef Levi, J. Spencer Standish (1945) Professor at MIT Sloan School of Management, to discuss: how multinational enterprises can realize strategic adjustments in global supply chain in response to the ever-changing economic environment; how COVID-19 pandemic influences the resilience and sustainability of the global supply chain development; how to carry out an orderly restructuring while adapt to the diversification of global supply chain under the context of imbalanced post-epidemic era. Welcome to join us and share your own insights and experience.
Note: This event will be held in the hybrid format, both of Zoom and MIT Kresge Little Theatre (W16-035). This Eventbrite page is only used for attendees who plan to join the event in person.
If you prefer to join the virtual webinar, please reserve your spot via the zoom link below:
https://us06web.zoom.us/webinar/register/WN_CfESY-TJRP2-F44qNyv4QQ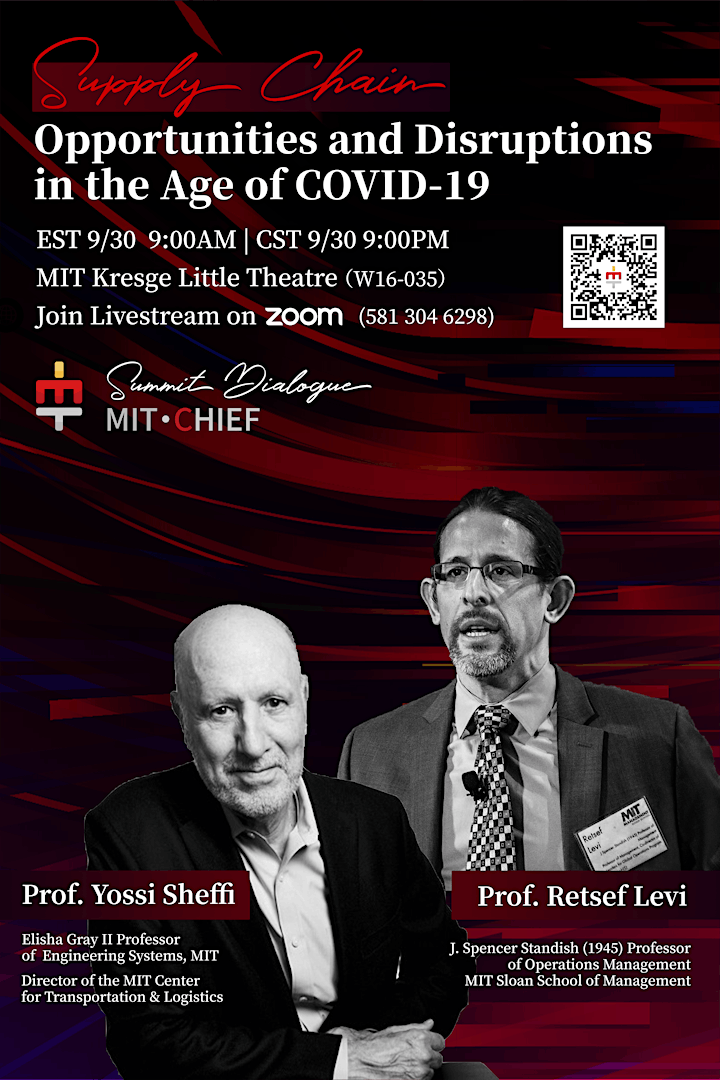 Organizer of 【MIT-CHIEF Summit Dialogue】Supply Chain Opportunities in the Age of COVID19
Founded in 2011, MIT-CHIEF firmly holds the aspiration to promote intellectual exchanges and collaborations between China and the United States in technology, innovation, and entrepreneurship. Every year, we proudly present our Annual Conference with distinguished scholars, seasoned investors, and experienced industry leaders and entrepreneurs. In the 2015 MIT-CHIEF Conference, we hosted over 1000 attendees from around the world, with renowned speakers including Shi Wang ( Chairman of China Vanke Co. Ltd), Alex (Sandy) Pentland (Creator of MIT Media Lab, serial entrepreneur, one of the most cited authors in computer science), Deniz Kural (Co-Founder and CEO at Seven Bridges Genomics), Nicolas Roy (Founder of project wings at GoogleX),Edward B. Roberts (Founder/Chair of MIT Martin Trust Center)., and so on.
The Massachusetts Institute of Technology (MIT) is a hotspot of scientific research where technologies are constantly taking shape to address real-world challenges. As China faces many such challenges today, we believe this is an ideal time to provide an interactive discussion forum between China and researchers at MIT. We also believe that the core values established by MIT's founder William Barton Rogers 150 years ago—inventional wisdom, useful work founded on science, hands-on learning, meritocracy and hard work, and service—have great potential to advance and develop the future.