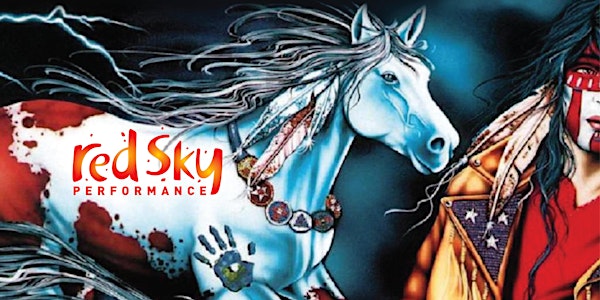 Mistatim Gallops Across Canada
Mistatim gallops across every province and territory to bring a thrilling virtual performance about the truest of friendships.
About this event
Mistatim Gallops Across Canada
Friday, June 19th, 2020 at 2pm EST (Eastern Time)
In celebration of NATIONAL INDIGENOUS PEOPLES WEEK, Red Sky Performance and Temagami Community Foundation's Virtual Arts Camp brings a thrilling virtual performance of our award-winning Mistatim to every province and territory in Canada. Ideal for children from 6 - 12 years, parents, teachers, presenters, and all audiences.
Out of the gate on June 19th, 2020, this fast-paced horse will trot, gallop, and fly from one end of the country to the other on this one-day digital tour. Following the performance, join us for a Social Round Up in the chat room.
British Columbia & Yukon: 11 am PDT
Alberta & NWT: 12 pm MDT
Manitoba: 1 pm CDT
Saskatchewan: 12 pm CDT
Ontario, Quebec: 2 pm EDT
New Brunswick & Nova Scotia & Prince Edward Island: 3 pm AST
Newfoundland & Labrador: 3:30 pm NDT
Nunavut would either be 11 am or 12 pm depending on where you are in the territory.
You'll enjoy an unforgettable story of the truest of friendships told through the "taming" of a wild horse. You can expect to meet the artists, experience a virtual performance, followed by a Social Round Up in the chat room with artists. Come and meet Mistatim in the virtual flesh!
It's FREE.
Direction & Concept: Sandra Laronde, Play by Erin Shields, Associate Director: Carlos Rivera, Music & Sound Design Rick Sacks, Associate Sound Designer: Marc Merilianen, and Mask Design & Build: Karen Rodd.
Performed by Falciony Patino Cruz, Wahsonti:io Kirby, and Benjamin Thomas.
Watch a brief excerpt of Mistatim in a workshop here.
This is a free event. We hope you will join us in empowering a brighter future for children by making a donation to our programming. All contributions will receive a charitable receipt, please visit our website!
"Mistatim vibrates with energetic freedom and thrilling eye-opening discovery."
– NOW Magazine
FOLLOW US:
"Like" and Follow Red Sky Performance on Facebook and join us on Twitter and Instagram: @redskyconnect for engaging Indigenous performance content from Canada and from around the world.
RED SKY SHOP:
Join the Red Sky movement! Rock a bold and breathable cotton tee, cozy fleece-lined hoodie, or tote bag; enjoy your favourite beverage in our rustic Red Sky mugs; or treat your ears to one of our acclaimed original soundtracks! Shop at our Red Sky here.