Missouri Wine & Jazz Festival 2020 -
About this event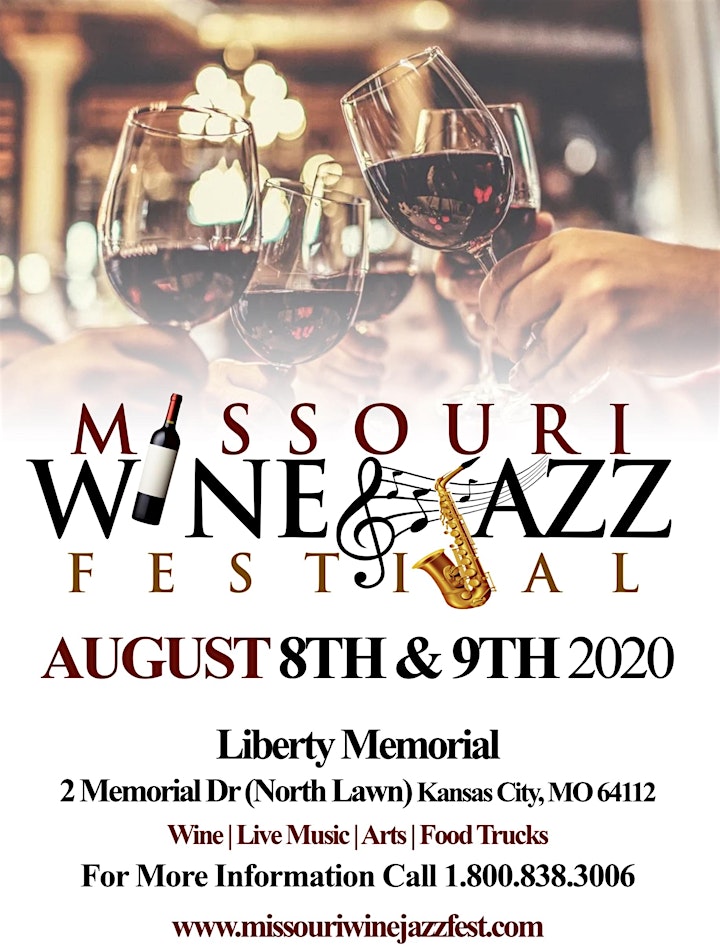 MUST BE 21 YEARS OR OLDER TO PURCHASE TICKETS OR ATTEND THIS EVENT!
FESTIVAL LOCATION: The Liberty Memorial on the (north lawn across from Union Station) on 2 Memorial Drive, Kansas City MO 64108 (near Pershing & Main St.)
ANY EARLY BIRD ADVANCED GENERAL ADMISSION TICKET SPECIAL OFFER: WILL BE LIMITED TIME OFFER EXTENDED THROUGH MAY 1, 2020, STAY TUNED.
VIP EXPERIENCE PACKAGES: PREMIUM VIP tickets are available for $150.00 and it includes the Wine Tasting, 1 hour early entry to wine tasting, Hors D'oeuvres, VIP Premium Seating at the Jazz Concert (seat will be provided), entry to the Vendor Festival, and a swag bag.
STANDARD TICKETS are available for $65.00 and it includes entry to the Wine Tasting, General Admission lawn seating to the Jazz Concert, entry to the Vendor Festival.
GENERAL ADMISSION TICKETS will be $30.00 and includes entry to the Vendor Festival and General Admission lawn seating to the Jazz Concert.
ONLINE SALES END SATURDAY AUGUST 8TH, 2020. EventBrite ticket fees will apply on all online sales. Tickets will be sold onsite the day of the event.
TICKETS: PLEASE PRINT ALL ONLINE TICKET RECEIPTS TO EXCHANGE FOR SECURE FESTIVAL WRISTBANDS AT THE ENTRANCE.
RAIN OR SHINE EVENT: This is a rain or shine event, scheduled for August 8th. No refunds or rainchecks on the day of the event.
FESTIVAL GROUNDS: All activities are scheduled outdoors in a secure fenced area on the W. Pershing & Main St bordered by Memorial Dr. Perimeter established for event ticket holders only. Main stage will be near the north end of the festival grounds (crowd will face Union Station looking north at the stage).
SEATING: Special VIP premium seating (chairs provided) near the main stage will be available for VIP guests. Special seating sections for handicapped patrons or those with special needs will be marked near the side points of the festival grounds. This is the only seating available on the street surfaces to provide a flat area for patrons with wheelchairs/walkers. Remaining seating areas are for patrons to enjoy the grassy area of the on the north lawn with blankets or lawn chairs. These seating areas will be segmented into large sections to provide aisle, walking paths for patrons, staff and security to move safely throughout the festival. For your safety, patrons must not block aisles and should establish seats on the grass areas only and not in the streets or sidewalks.
WHAT YOU CAN BRING: Lawn chairs and umbrellas can be brought into the festival grounds. Please be mindful of umbrellas that may obstruct the view of other patrons.
WHAT YOU CAN NOT BRING: Outside food, drinks, coolers or large cooler bags, and outside alcohol are prohibited from being brought onto the festival grounds. Food and drinks will be sold at the festival. Also, please do not bring tents or canopies.
SMOKE FREE FESTIVAL: Although this is an outdoor environment, smoking is not allowed under festival tents and will be discouraged on the festival grounds per instructions from the KCFD-Fire Marshall.
NO PETS PLEASE: Only assistive animals (as well as those part of any entertainment) are allowed on the festival grounds.
CHILDREN: MUST BE 21 AND OLDER TO ATTEND THIS EVENT
RESTROOMS AVAILABLE: Portable restroom facilities and hand washing stations will be available on the festival grounds.
PARKING: VIP parking will is available for VIP ticket holders in the parking available closer to festival grounds(one-two blocks walking from the festival). Parking will also be available in lots east of Liberty Memorial, Union Station and Crown Center as well as on street parking throughout the area. There will be a designated areas for Uber, Z-Trip and Lyft pick-up and drop-offs. Please note signage for no parking areas. Vehicles may be ticketed and towed. There are no reserved parking spaces.
FIRST AID AND PERSONAL HEALTH: A staffed First Aid tent will be provided during the festival. All patrons must be mindful of their personal health needs, stay hydrated and not over indulge during the festival.
SECURITY AND WEAPONS: The festival grounds and parking areas will be patrolled by uniformed members of the Kansas City Police department and contracted private security. A security checkpoint will be placed at the entrance to the festival. No concealed weapons of any kind will be allowed on the festival grounds. Please secure any other items in the trunk of your car.
MUSIC SCHEDULE: Final national talent musicians and schedule to be announced. Gates open at 2:00 pm on Saturday and 1pm on Sunday. First music performance is scheduled for 7:00 pm. (Performers and schedule are subject to change).
ATM MACHINES: There will be four (4) ATM machines located in the area. They will be inside festival at the entrance and midway thru the vendor festival area.