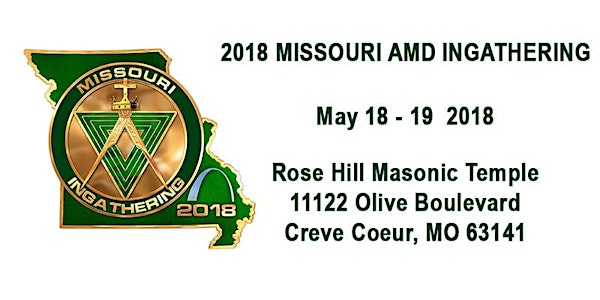 Missouri Allied Masonic Degrees (AMD) Ingathering 2018
When and where
Location
Rose Hill Masonic Temple 11122 Olive Boulevard Creve Coeur, MO 63141
Description
The Allied Masonic Degrees (AMD) Councils in Missouri are hosting 3rd Annual In-Gathering in St. Louis, Missouri this year. There will be several outstanding speakers and a degree team to confer the Royal Ark Mariner and Knight of Constantinople.
Join us as we are both informed and entertained by two high quality and well-known Masonic speakers. We will enjoy a fine catered meal, gain further Masonic Light and enjoy the finest of fellowship. These speakers are highly sought after and this is their first time speaking in the St. Louis Area.
Our two out-of-state presentors are:
Bro. Chuck Dunning renowned Masonic author of Contemplative Masonry.
RVB Mohamad A. Yatim will speak on two topics: "Freemasonry and the Mystic Schools of the East" and "Freemasonry: Stories from My Masonic Travel Around the Globe".
Of course, you will receive the 2018 AMD Pin for those who buy early

Schedule of Events:
Friday Night - Missouri AMD Festive Board with the fellowship at 6:30 and dinner at 7:30 pm
Topic for the Evening: "Masonic Ritual, Modes of Work and the Craft Lodge, How Its Symbolism Has Changed and Where It Can Take Us"
Saturday Morning - 9:00 AM Registrations and 10:00 AMD Degree Conferrals
Saturday: Catered Lunch
Saturday Afternoon - Two dynamic speakers Chuck Dunning & Mohamad A. Yatim
Suggested Hotels in the Area:
Drury Inn & Suites St. Louis Creve Coeur
11980 Olive Blvd, Creve Coeur, MO 63141 T:(314) 989-1100
druryhotels.com
Courtyard by Marriott St. Louis Creve Coeur
828 N New Ballas Rd, St. Louis, MO 63146 T:(314) 993-0515
marriott.com