About this Event
Why Registration? Beginning this year, we are asking you to register for Missions Fest Seattle. Other mission conferences have done this for years. We are doing so because we need a better way to count the number of people attending the conference so that we might better serve the needs of the Body of Christ in Seattle and work together to further expand the Kingdom of God. Your name and email will remain with Missions Fest and not shared with any one else. Also, you will receive no more than one email per month except for the two months prior to the conference and one month prior to any special events. Please bring your ticket to the conference to show at the door. Thank you for your assistance!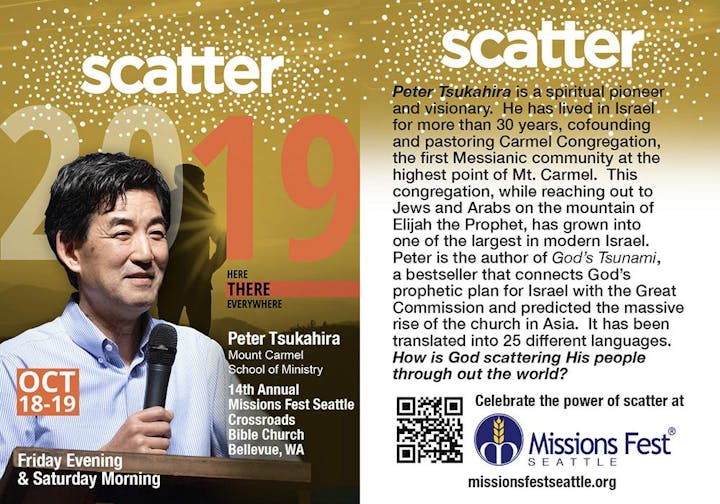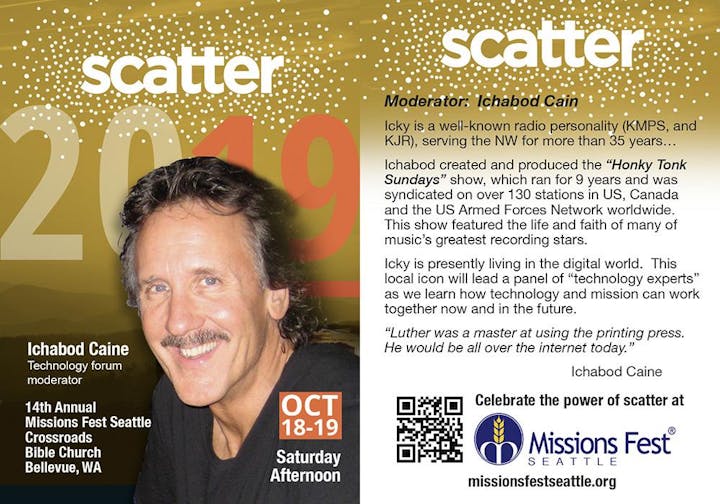 Conference Information
Missions Fest Seattle (MFS) is an annual multi-church sponsored event that exists to inform and excite Christians about what God is doing around the world for the purpose of involving them in the Harvest.
For more information about seminars, exhibitors, meal-packing event, children's programs, accommodations, meals, and parking please visit the Missions Fest Seattle website.
Schedule of Events
FRIDAY, OCTOBER 18
9:00 am–3:00 pm: Friday Workshop for Pastors & Mission Leaders
10:00 am–2:00 pm: Friday Field Trip (FFT) for Students, Grades 4–12
4:00 pm–7:00 pm: Prayer Room Open
4:00 pm–9:00 pm: Mission-Related Exhibitors' Booths Open
4:00 pm–5:00 pm: Seminars
4:00 pm–8:00 pm: On-site Food Available
5:30 pm–6:30 pm: Seminars
6:30 pm–7:00 pm: Visit Exhibitors' Booths
6:45 pm–8:45 pm: Children's Program for K–6th Grade and Preschoolers
7:00 pm–8:30 pm: General Session: Peter Tsukahira, Greater Works Gospel Choir (Nursery available Birth-2)
9:00 pm: Exhibitors' Booths Close
SATURDAY, OCTOBER 19
9:00 am–7:00 pm: Prayer Room Open
9:00 am–7:00 pm: Exhibits Open
9:15 am–11:00 am: Children's Program K–6th Grade and Preschoolers
10:00 am–Noon: MFS 2019 Mission Project: Meal-Packing Event—1st shift
9:30 am–11:00 am: General Session: Peter Tsukahira, New Hope and New Covenant Worship Teams (Nursery available Birth-2)
10:40 am–7:00 pm: On-site Food Available
11:30 am–12:30 pm: Seminars
12:30 pm–1:30 pm: Visit Exhibitors' Booths and Lunch On-site Food Available
1:00 pm–3:00 pm: MFS 2019 Mission Project: Meal-Packing Event—2nd shift
1:00 pm–4:45 pm: Children's Program K-6th Grade and Preschoolers
1:15 pm–2:30 pm: MFS Partnering Church Workshop for Planning the 2020 Conference
1:30 pm–3:00 pm: General Session: Ichabod Caine and Technology Panel (Nursery available Birth-2)
3:30 pm–4:30 pm: Seminars
4:00 pm–6:00 pm: MFS 2019 Mission Project: Meal-Packing Event—3rd shift
5:00 pm–6:00 pm: Seminars
6:45 pm–9:00 pm: Children's Program K–6th Grade and Preschoolers (Red Room
7:00 pm–9:30 pm: Youth Rally Grades 6–12 (Student Center 500)
7:00 pm: Exhibitors' Booths Close
7:00 pm–8:45 pm: General Session: George Davidiuk, Church of Grace Youth Choir (Nursery available Birth-2)
9:00 pm: Missions Fest Seattle 2019 Closes