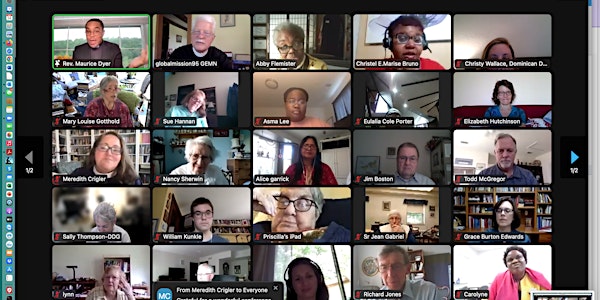 Mission Thursday: How will General Convention affect global mission?
Come to learn about and discuss how General Convention's actions will affect the church's global mission!
About this event
How will the global mission of the Episcopal Church be affected by actions of the 2022 General Convention held this past July? Find out at this fall's first Mission Thursday sponsored by GEMN: Thursday, Oct. 13, 1-2 p.m. Eastern, on Zoom. Register for free here. The Zoom link will be sent to registrants.
Discussing how convention responded to the numerous resolutions submitted by the Standing Commission on World Mission will be Ms. Martha Gardner, commission chair. Currently missioner for networking and formation in the Diocese of Massachusetts, Gardner's extensive background includes work with the Church Pension Group, the Episcopal Network for Social Justice, the Episcopal Church Foundation, and the office of the Anglican Observer at the United Nations. Gardner holds a B.A. from Georgetown and an M.A from the University of Chicago.
Discussing how convention's actions will affect the work of the Office of Global Partnerships will be the Rev. David Copley, director of that office, which oversees the church's relationships with Anglican provinces around the world and sends Episcopal Volunteers in Mission and Young Adult Service Corps missioners. A graduate of Virginia Theological Seminary, Copley has mission background in Liberia and Bolivia. In addition to participating in numerous international consultations, Copley helped represent the Episcopal Church at this past summer's Lambeth Conference.