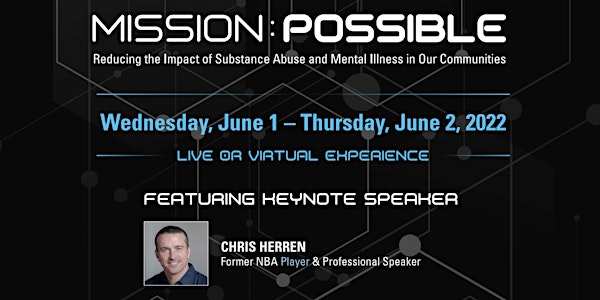 Mission: Possible | Reducing the Impact of Substance Abuse + Mental Illness
Secure your seat to attend the South Dakota Area Health Education Center's conference!
About this event
The South Dakota Area Health Education Center would like to invite you to attend the third annual Mission: Possible Conference! At this event, we will welcome nationally recognized speakers, local professionals and community leaders to share engaging content and offer networking opportunities for all attendees. Join us in-person at the Hilton Garden Inn Downtown Sioux Falls or virtually from the comfort of your office or your home!
SCHEDULE OF EVENTS
Wednesday, June 1, 2022
11:30AM CT - 5:30PM CT | Conference
5:30PM CT - 6:30PM CT | Social
Thursday, June 2, 2022
7:30AM CT - 12:30PM CT | Conference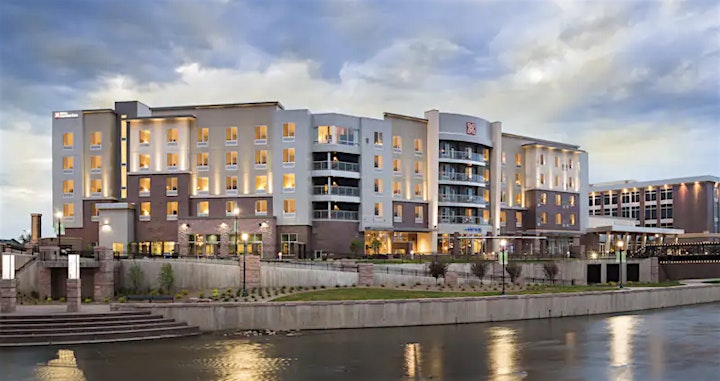 IN-PERSON HOTEL ROOMS | AVAILABLE BY REQUEST ONLY
While the hotel block has expired for booking at the Hilton Garden Inn Downtown Sioux Falls, there are some rooms set aside for booking at a special discounted room rate for our event. Please call 605.366.7022 for more details or email us info@SDAHECevents.com. Rooms are first-come, first-serve and based on availability in the room block.
WHO SHOULD ATTEND?
Medical + behavioral health professionals + civic & community leaders + students + educators & school administration + more.
CONFERENCE TOPICS + AGENDA
Speakers at the hybrid conference will have their presentations centered around the following three topics/themes:
What's Trending in Mental Health and Substance Abuse
Impact of Substance Abuse and Mental Illness on Youth
Opioid Treatments including MAT (Medication-Assisted Treatment)
There will not be tracks that attendees will be assigned to; however, each breakout session/panel discussion will have special notations of each of those themed topics above for ease of registration.
Please click here to view the schedule of sessions. All times are in Central Time Zone and subject to change.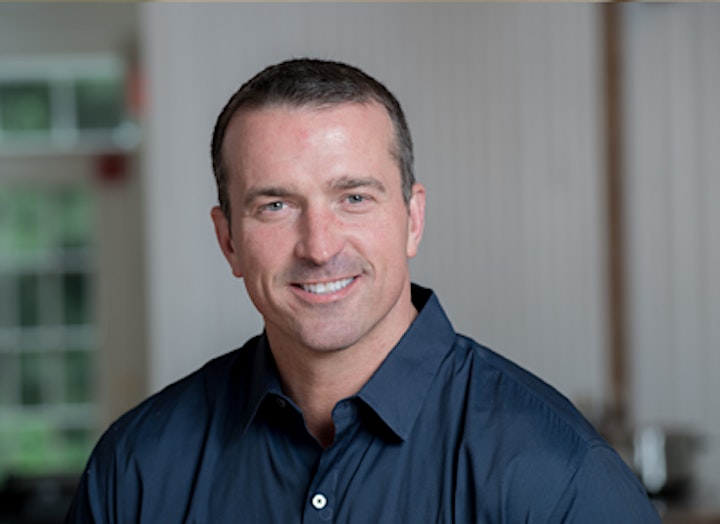 FEATURED KEYNOTE SPEAKER
This year's featured keynote speaker will be Chris Herren, former NBA Player and professional speaker. An extraordinary basketball player, Chris was a celebrated star in his native Fall River, MA before graduating high school. He went on to play at Boston College and Fresno State, two seasons in the NBA – including one with his hometown team, the Boston Celtics – and seven seasons overseas before losing it all to the disease of addiction.
With the unwavering support of his family and friends, Chris has been sober since August 1, 2008, and he now shares his story with the goal of making a positive difference in the lives of others
His recovery journey has been documented in the bestselling memoir, "Basketball Junkie," the Emmy-nominated ESPN Films documentary, "Unguarded" and in countless local, national and international stories by The New York Times, The Boston Globe and Sports Illustrated, among others. Through Herren Talks, Chris has spoken to over 1 million students and community members, sparking honest discussions about substance use disorder and wellness.
In 2011, Chris grew his vision of support for others when he founded the nonprofit Herren Project. Through the organization, Chris and his team empower schools and communities to make healthy choices, while also guiding families through recovery. In 2018, Chris also founded Herren Wellness, a residential health and wellness program that helps guests lead healthy, substance-free lives.
LIVE AAFP ELECTIVE CREDITS
The AAFP has reviewed Mission: Possible - Reducing the Impact of Substance Abuse and Mental Illness in Our Communities and deemed it acceptable for up to 6.75 Live AAFP Elective credits. Term of Approval is from 06/01/2022 to 06/02/2022. Physicians should claim only the credit commensurate with the extent of their participation in the activity.
CEU CREDIT
CEUs will be made available for social workers. They can earn 6.75 CEUs through Provider number #1048.
NEED MORE INFO?
For more information about the hybrid conference or to join as an event sponsor of this year's conference, be sure to connect with us at info@SDAHECEvents.com.