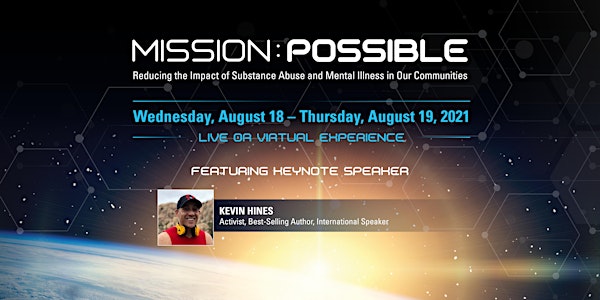 Mission: Possible | Reducing the Impact of Substance Abuse + Mental Illness
Secure your seat to attend the South Dakota Area Health Education Center's conference!
About this event
The South Dakota Area Health Education Center would like to invite you to attend this year's Mission: Possible Conference! At this event, we will welcome nationally recognized speakers, local professionals and community leaders to share engaging content and offer networking opportunities for all attendees. Join us in person at the Hilton Garden Inn Downtown Sioux Falls or virtually from the comfort of your own home!
Wednesday, August 18, 2021
11:30AM CT - 5:30PM CT | Conference
5:30PM CT - 6:30PM CT | Social
Thursday, August 19, 2021
7:30AM CT - 8:00AM CT | Early Riser Session
8:00AM - 12:30PM CT | Conference
IN-PERSON HOTEL ROOMS - YOU CAN STILL RESERVE!
Join us in-person at the Hilton Garden Inn - Downtown Sioux Falls and reserve your hotel room today by clicking here! Our special hotel room rate has expired; however, rooms are still available at a great rate! Reserve your room today!
WHO SHOULD ATTEND?
Medical + behavioral health professionals + civic & community leaders + students + educators & school administration + more.
CONFERENCE TOPICS + SCHEDULE OF EVENTS
Speakers at the hybrid conference will have their presentations centered around the following three topics/themes:
What's Trending in Mental Health and Substance Abuse
Impact of Substance Abuse and Mental Illness on Youth
Opioid Treatments including MAT (Medication-Assisted Treatment)
There will not be tracks that attendees will be assigned to; however, each breakout session/panel discussion will have special notations of each of those themed topics above for ease of registration.
See below for the listing of the schedule, thus far.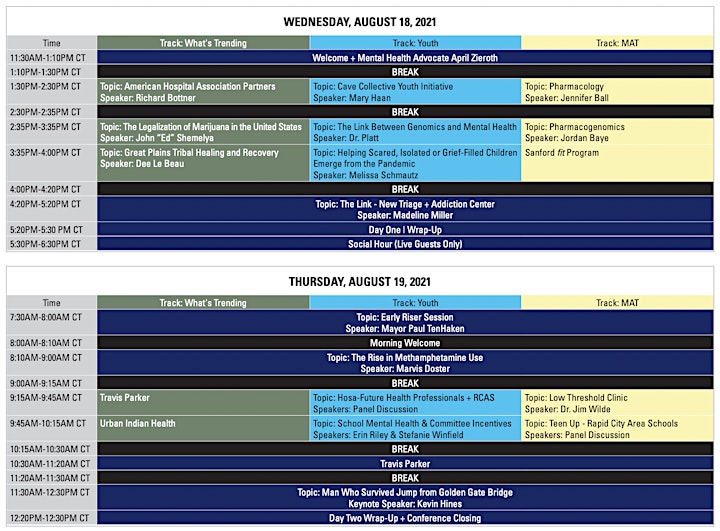 CME + CEU CREDIT
AAFP CME Credit will be applied for as well as CEUs for many mental health and addiction professionals.
NEED MORE INFO?
For more information about the hybrid conference or to join as an event sponsor of this year's conference, be sure to connect with us at info@SDAHECEvents.com.