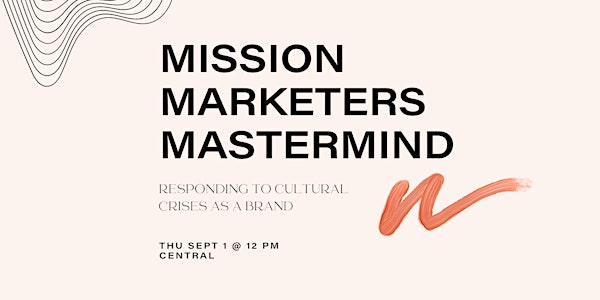 Mission Marketers Mastermind
Holding space for purpose-driven marketers and communicators to dialogue around responding to cultural crises as a brand / thought leader.
About this event
In this interactive roundtable, we will focus on how to respond to cultural crises - as both a brand and leader in the online space. Join us as we tackle this difficult and eye opening topic with open discussion, inclusive brand framing and more. 🙋‍♀️ We'll discuss strategies for hot button issues and other unforeseen crises.
This event is for you if...
You are a purpose-driven brand builder responsible for growing your brand awareness (nonprofit, for profit, agency/consultant, etc.)
You are actively working to grow your brand awareness
You want to meet other like-minded marketers and leaders like you
Spaces are limited to ensure we can learn from each other and build community.
If you have any questions, please reach out to kerri@flourishcreative.co
**
PS: Please plan to turn your camera on - we look forward to being with you!