MISSION DAWAH - FATIMA BARKATULLA, iERA - UK

Monday, November 4, 2013 at 9:00 AM

-

Wednesday, November 6, 2013 at 9:00 PM (PST)
Event Details
BismillahirRahmanirRaheem
 Assalamu Alaikum Wa Rahmatullahi Wa Barakatuhu....
Sisters Good News!


Fatima Barkatulla from iERA, UK., will be giving trainings.

This Intensive Training Workshop will help in better understanding Dawah and Follow up methods and to care about new Muslims. 
In-Shaa-Allah, Starting from  4th November & 6th November  (2 Full Days)
Training Course: 
Participants (In Shaa Allah) : 40 
Duration : Full time for both Courses

Breakdown of Training Course:
9:00 am - START
9:00 am to 11:30 am
(Dhohr + Lunch) = 60 mins 

12:30 pm to 14:30 pm
(Asr + Break) = 30 mins

12:30 pm to 14:30 pm
(Asr + Break) = 30 mins

15:00 pm to 17:00 pm
(Maghreb + Break) = 30 mins

17:30 pm to 19:00 pm

19:00 pm - END
-------------------------------------------------
7:00 Hours Course  + 2 Hours 30 Mins Prayers & Breaks = 9 hours 30 Mins
VENUE : Orange Tower Theater, Juffair, Bahrain.
After different levels of training we have to undergo serious Training for upcoming events which Say One Care has planned for coming months. A full interactive course teaching you how to talk to non Muslims about Islam, convincingly and in a structured way & learn what to do with all those uncomfortable questions that people always ask. Build your confidence to be a true dawah carrier in your community.                                                                                                    
* Da'wah trainings are for Sisters Only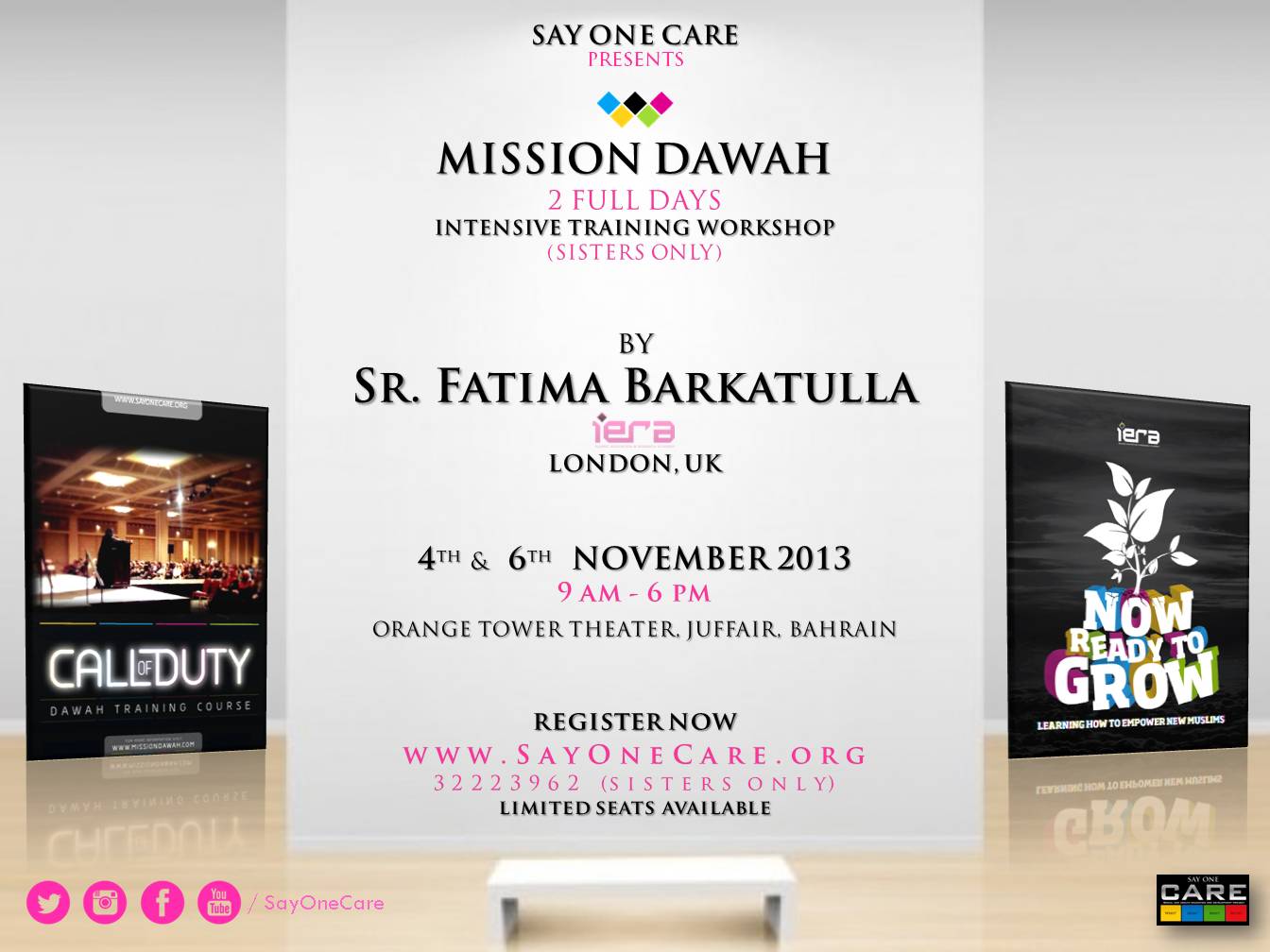 Day 1: Course #1
Call Of Duty -  Dawah Training Course
Continue the Spirit of Women's Care Conference 2013, Beyond the veil, Life of Women and attend an exclusive, sisters only dawah training course taught personally by Sr. Fatima Barkatulla on 4th & 6th November in Bahrain.
Call of Duty is an interactive course teaching you how to talk to non Muslims about Islam, convincingly and in a structured way. With Ramadan fast approacing inshaa'Allah, learn how best to engage with your neighbours, perhaps invite them round for iftaar and leade the dinner conversation. What about at work – this year, be ready to respond when your colleagues ask why you are fasting.
This is your chance to build your confidence to become a true dawah leader in your community!
The aim of the Da'wah Training is to achieve the following:
- Empower members of your local community to make Da'wah to Asians and other religions other than christianity alone or filopinos alone. There is missing dawah on other major religions like Hinduism, Budhism, Atheism.
- Motivate your community to develop an active Da'wah to move out to different streets, areas, cities and malls that will be delivering the message of Islam to the non Muslim community on a regular basis.
Day 2:  Course #2
Now Ready to Grow - Empowering New Muslims
One Day Training Course dedicated to teach you how to effectively empower new Muslims at the very beginning of their journey and help them to build a solid foundation of Islam in their lives to become strong believers.
This course aims to:
Change the way we think of new Muslims and understand the reality of their life.

Avoid falling into the common mistakes in supporting new Muslims.

Teach you the methodology of the Prophet (saw) and help you to implement it.

Develop within yourself the potential that will make you a source of inspiration for new Muslims

Give you the opportunity to contribute to one of the best investments of this word and the hereafter.
Pre-Requisites:
Make Strong Niyah that you will Attend this Training to Learn and Take full advantage of it.

Make sure you carry enough money to have food or carry lunch box with you.

Keep all your Tensions, Problems, Worries, Grudge, Enemies, at home or  throw it in bin and then enter hall.
 
ABOUT:
http://www.onereason.org/secrets
Jazakum Allahu Khairan wa Ahsanul Jazah...
Sr. Marwa Al Khaja
00973 3223962
"Smile its an act of Charity"
When & Where

Orange Tower Theater
Avenue 22
Manama, Capital Governorate
Bahrain

Monday, November 4, 2013 at 9:00 AM

-

Wednesday, November 6, 2013 at 9:00 PM (PST)
Add to my calendar
Organizer
BRAVACO - We Accept Challenges
Because everyone is creative. Biggest problems are best solved collaboratively.
"Clarity is a key factor for growth"
To give clients high-quality services aiming for their business growth and help their customers enjoy the most compelling experience possible.
"It is collective growth consciousness"
Inspiring people to create beautiful things which are beneficial to humanity to live a meaningful life.
Time for you to do it, Our work is to help you.
Bravaco has the expertise of business craft which brings confidence even in the inexperienced individual to implement their incredible dreams come true.
1. We are Professionals
More than how to do we focus more on why to do, our principles and values make people love us. That is what gonna keep you connected.
2. Fast Support
We ensure a smooth and simple flow of work to help you get most out of your investments.
3. Boosting Results
By leveraging the tools and resources of our company, we can help brands forge deeper, more meaningful connections at speed and scale.
4. Best Design Solutions
Customer's growth and success are directly proportional to our growth and success. Turning your dreams into reality elevates us in the design industry. "The believing men and women are protectors and helpers of each other. They collaborate to promote all that is good and oppose all that is evil; establish prayers and give charity, and obey Almighty God and his Messenger. Those are the people whom Almighty God would grant mercy. Indeed Almighty God is Exalted" and Wise. (Q 9:71)
"Call to the way of your Lord with wisdom and fair exhortation, and reason with them in the better way." (Q 16:125)
Brand Valley Company S.P.C.