Description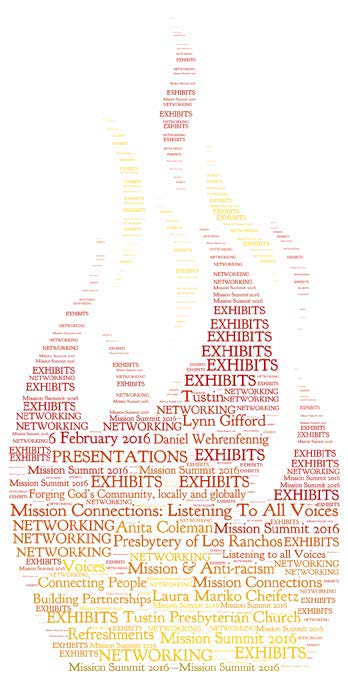 Mission Connections: Listening to All Voices: Summit 2016
Presbytery of Los Ranchos
Saturday, February 6, from 8:00 AM to 12:300 PM (PST)
Place: Tustin Presbyterian Church
225 W. Main, Tustin
Keynote Speaker is Rev. Laura Mariko Cheifetz, Vice President of Church & Public Relations, Presbyterian Publishing Corp, Louisville, KY.
30 or more Exhibits showcasing our churches on Mission with God.
Worship led by New Hope Praise Team.
Breakout speakers include: 1) Rev. Lynn Gifford 2) Syuzanna Petrosyan; 3) Dr Anita Coleman
Connecting People Building Partnerships
Forging God's Community locally and globally
Call Bonita Carr (714-956-3691 X122).
For more information, including the program schedule, visit http://lrpmission.wordpress.com/
Organizer of Mission Connections: Listening to All Voices: Summit 2016