Mission Accomplished 2017- Turn Your Goals Into Reality
Actions and Detail Panel
Mission Accomplished 2017- Turn Your Goals Into Reality
Fri, December 16, 2016, 9:00 AM – 6:00 PM MST
Description
FOR THE FIRST TIME!
We are partnering with two of the biggest players in the training and development arena to bring you the most advanced tools in goal setting!
Sandler Training and Blair Singer have helped thousands of people across the globe, from fortune 500 companies to small business owners, to transform their goals intro reality through training the best strategies in the science of achievement!
This year I will be joining these great partners to guide you in setting your own goals then helping you come up with a game plan to achieve it.
How important are your goals?
Did you know that less than 5% of people have drafted written goals?

Did you know that people who create written goals are more successful than others, even when not every goal is achieved?

Have you created goals, only to feel frustrated when you fall back into your typical routines?

Do you know how to complement your written goals with a tactical plan that ensures your success?
It is very common for many people to be wildly successful in certain areas of life, yet find themselves falling behind in others. As a result, they find themselves feeling stuck, not knowing how to tactfully transition their time, energy, and resources to align with their grander priorities.
Are you committed to your ultimate success in 2017?
Then keep reading to see if our goal setting workshop can help you align your goals with action plans to achieve the success you deserve.
Here is what you will get:
Join the mindset and strategies of the world's highest achievers so that you can achieve your goals much faster.
Get clarity by effectively evaluating your wheel of life. Take a clear look at all areas of your life so that you can assess where you want to focus your energy.
Put so called "failures" in the past, so they become assets for future success, rather than baggage dragging you down.
Identify your Ultimate Definite Purpose so that you align your energy to attract the right opportunities – Also known as "making luck".
Crafting long-term and short-term goals along with daily rituals that will keep you on track towards success.
Walking away with a "cook book" that will include detailed recipes and ingredients necessary to your success. Following this one alone will double your income!
Develop an accountability structure that will keep you on track even when you don't feel like it. Which means you have no alternatives but to achieve your goals!
Setting your lifestyle vision board that will allow you to be and have all that you envision for your life starting now.
Learn cutting edge tools in psychology and brain science so that you overcome your own self-limiting beliefs and breakthrough towards new peaks in your life.
Learn from different guest speakers in the workshop to share their success formula in goal achievement.
Because your life is affected with people around you, bring a spouse, a friend, a business partner or your whole team and work together in crafting your goals. You may be surprised that not everybody shares your vision. Wouldn't you want to know now than later down the road?
Workbooks and material will be provided.
Course Date & Location
December 16th, 2016
9am - 6pm
Location:
15650 N 83rd Way, Scottsdale, AZ 85260

Do You Want To Create And Share Your Goals With Someone?

REGISTER BEFORE DECEMBER 1ST AND RECIEVE ONE FREE TICKET so that you can bring a friend or famliy member, business partner, or a team member and work on your goals together.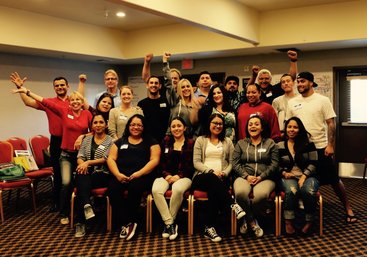 100% Money Back Guarantee
RISK FREE
I am so confident that you will accomplish the goals you set if you follow this system and do what you say you are going to do, that I am willing to do something VERY, VERY, VERY unusual.
If you are not BLOWN AWAY with the workshop see me or any of our assisting staff during a break, submit your workbook for a full money back no questions asked.
No I am not crazy. I am confident in your abilities and in the system. I am willing to put my money where my mouth is and do what most gurus NEVER DARE to do with their participants.
So you got nothing to lose and lots to gain!
NOW or When?
You know that goal setting works. Look at how many high achievers, such as Steve Jobs, Sir Richard Branson, Tony Robbins, Opera Winfrey, and many more who all have one thing in common and that is they all developed a system to achieve their goals.
With my help you can develop yours as well.
We are here to serve you for the long haul unlike other gurus who are in it for a quick turn, and leave you on your own.
SO… If you want to take advantage of this 100% money back guarantee, demonstrate to yourself that you are serious, then take action NOW!
If you are still "thinking about it", this workshop may not be for you. Perhaps next year. However, if you are ready to take the first step in achieving success, sign up now.
See What Other High Achievers Like You Are Saying About The Training?


Seats are limited do not delay!
Course Date & Location
December 16th, 2016
9am - 6pm
15650 N 83rd Way, Scottsdale, AZ 85260
I look forward serving you!
Until then be fearless, sky is the limit!
Kal Jurdi

Date and Time
Location
The Business & Training Development Center
15650 N 83rd Way
Inside Impact
Scottsdale, ARIZONA 85260