Description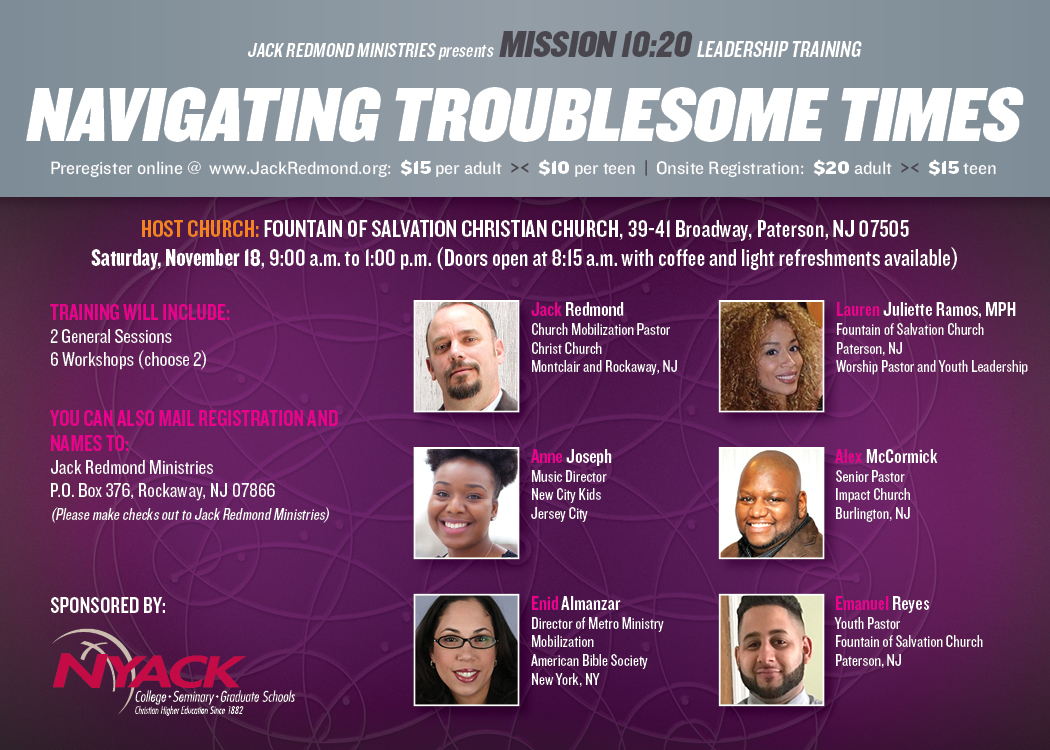 FOURTH GENERATION MINISTRIES PRESENTS
MISSION 10:20 YOUTH LEADER & TEEN LEADERSHIP TRAINING
Theme: Navigating Troublesome Times
REGISTRATION:
Adult: Discount Pre-reg - $15, onsite is $20
Teen: Discount Pre-reg - $10, onsite is $15
REGISTRATION INCLUDES: FREE copy of The 21 Laws of Evangelism, workshop materials, continental breakfast and refreshments
Date and Time: Saturday, November 18, 2017 from 9:00 a.m. to 1:00 p.m.
(Doors open at 8:15 a.m.with coffee and light refreshments available)
Training will include:
2 General Sessions including Praise and Worship
6 workshops led by powerful local urban youth leaders (Pick 2)
Speakers include:
Lauren Juliette Ramos, MPH - Fountain of Salvation Church - Paterson, NJ - Worship Pastor and Youth Leadership
Anne Joseph - Music Director - New City Kids - Jersey City
Alex McCormick - Senior Pastor - Impact Church - Burlington, NJ
Enid Almanzar - Director of Metro Ministry Mobilization - American Bible Society - New York, NY
Emanuel Reyes - Youth Pastor - Fountain of Salvation Church - Paterson, NJ
Jack Redmond - Church Mobilization Pastor - Christ Church | Montclair & Rockaway, NJ
You can also mail registration fees and names to:
Jack Redmond Ministries, P.O. Box 376, Rockaway, NJ 07866
(please make checks out to Jack Redmond Ministries)
E-mail: pastorjack@jackredmond.org

Phone: 973-527-3597
* You can also make a donation of any amount to sponsor a Youth Leader(s) or teen(s) to attend!!!