Description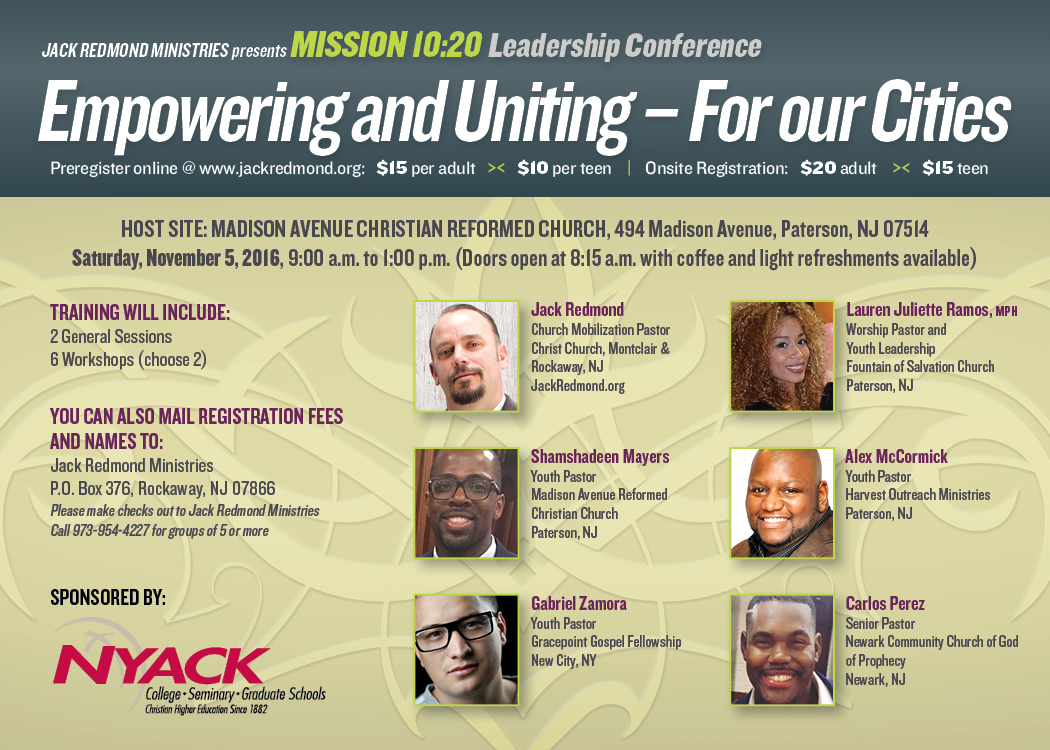 JACK REDMOND MINISTRIES PRESENTS
MISSION 10:20 LEADERSHIP CONFERENCE
Theme: Empowering and Uniting - For our Cities
Preregister online $15 per adult, $10 per teen
Onsite Registration $20 per adutl, $15 per teen
DATE: Saturday, November 5th, 2016 - 9 a.m. to 1:00 pm
(Doors open at 8:15 a.m. with coffee and light refreshments available)
CONFERENCE WILL INCLUDE:
2 General Sessions that include praise and worship
6 Workshops (choose 2)
Workshops will be geared to either Youth Pastors, Youth Leaders or Teens
FREE Copy of Let Your Voice Be Heard for all registrants!
Jack Redmond, Church Mobilization Pastor, Christ Church, Montclair and Rockaway, NJ
Teen Workshop: God is Bigger - Life will have many ups and downs and fights we have to fight. We either do that in our own strength or in God's strength. Let's talk about how God is bigger than anything we ever face!
Lauren Juliette Ramos, Worship Pastor and Youth Leadership, Fountain of Salvation Church, Paterson, NJ
Adult Workshop - Uniting for Your City - The fact is we can do more together than by ourselves. Let's talk about vision and practical steps to see Youth Ministries and churches work together for greater city wide impact.
Shamshadeen Mayers, Youth Pastor, Madison Avenue Reformed Christian Church, Paterson, NJ
Adult Workshop - Discipling Your Leaders - Every Youth Pastor or Youth Director wants a strong team of leaders. We all focus on getting them to work hard, but not many leaders have a strong plan to disciple them to walk in their purpose and callings in a greater way!
Alex McCormick, Youth Pastor, Harvest Outreach Ministries, Paterson, NJ

Adult Workshop - With or Without You - If we are going to impact a generation, we need to have a growing leadership team that can run the ministry with or without us being there. The volunteers we train today will also be the Youth Pastors and Pastors of tomorrow!


Gabriel Zamora, Youth Pastor, Gracepoint Gospel Fellowship, New City, NY

Teen Workshop - Who's Your Crew? - Most people end up doing what their friends do, so if your friends are going places, so will you. If your friends are headed nowhere... Your crew may determine your whole life!


Carlos Perez, Senior Pastor, Newark Church of God of Prophecy, Newark, NJ

Adult Workshop - Connecting to Your Community - To really impact your city, you must be connected to your community. This means churches, schools and different organizations that are also working to help the community. Let's talk about making and building those connections.