Location
Parliament House
410 North Orange Blossom Trail
Orlando, FL 32805
As all ART evolves, so does the ART of Drag/ Queer Art. Join us as we add to pageant history. GENDER no longer wins the CROWN. #EMPRESSIVE
About this event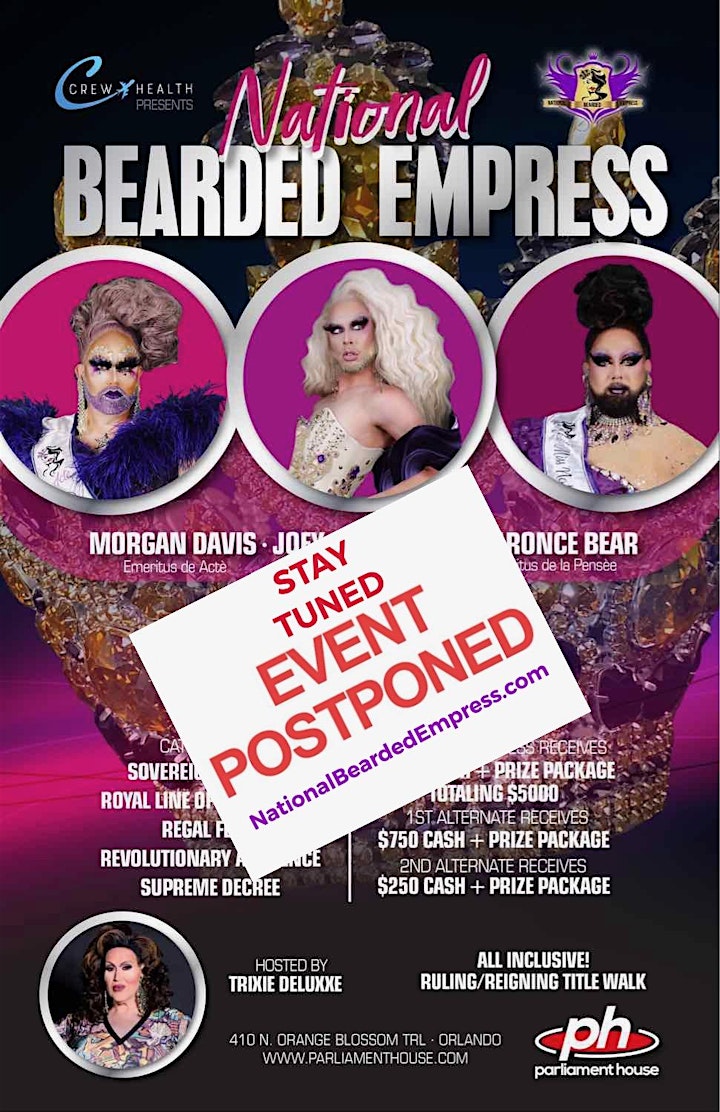 Watch an expression of Queer Art with no limits as the The National Bearded Empress Pageantry System invites you to join us March 30th and 31st 2020, to behold The First Ruler and First Crowned National Bearded Empress. Spectators will be entertained watching the contestants bring to life on stage at The World Famous Parliament House in Orlando Florida (410 N Orange Blossom Trail, Orlando, FL 32805) their vision of EMPRESSIVE Bearded Drag.
Entertainment will consist of The contestants and Queer Artists of Drag Entertainment including our very own National Bearded Empress Emeriti. Pensée Bearonce Bear, La Voix Joey Gallagher and De Acté Morgan Davis. Names like Fashion Model and gender bending Gin Jinka, Ava Deamor, Jaya Hearts and De DeLovely are just exaples of the stellar performaces during this two night event.
So mark your calendars and add your ticket to your smartphone wallet and join the evolution of drag known as THE NATIONAL BEARDED EMPRESS PAGEANT
Thank you to all of our supporters and sponsors. Listed below are those that support and are friend and allies to the LGBTQ+ community.
Crew Health
Double D Jewels
Brandi Ice
BannerPrint.com
Ruffles and Raspberries
Beard crack
Mystery Productions
M's Eclectic Attic
Unique Nails By Brie Fugueroa
DV Couture LLC
Syluss Afano
Collins Creative
KC Starr Blasingame
Gosh Yarn it-Bryan Sleigher
Big Girl Nails
Lash A Tude
Joey Gallagher
Anthony Louis Salon
Crown Brush
Planet Pepper NYC
Anonymous Cash donation