Long Islands very own Beauty Pageant Miss Latina 2021. A classic presentation of beauty , intelligence and elegance 6/12/21
About this event
Long Islands very own Beauty Pageant Miss Latina 2021. A classic presentation of beauty , intelligence and elegance on 6/11/21. Open to all female participants!
We humbly invite you to participate in the only Long Island beauty pageant with a grand prize of $5000.00 to the grand winner among it's many prizes.
All participants are required to register through eventbrite. After registering participants will forwarded interview dates for preliminary rounds of interviews to be held 5/29/21.
General admission tickets include 3 course meal with options of champagne or bottle service!
The Final show determine the Grand winner based on a final interview, swim wear and evening wear among the final contestants.
El concurso de belleza Miss Latina 2021 de Long Islands, una presentación clásica de belleza, inteligencia y elegancia el 11/6/21. ¡Abierto a todas las mujeres participantes!
Le invitamos humildemente a participar en el único concurso de belleza de Long Island con un gran premio de $ 5000.00 para el gran ganador entre muchos premios.
Todos los participantes deben registrarse a través de eventbrite. Después de registrarse, los participantes recibirán las fechas de las entrevistas para las rondas preliminares de entrevistas que se llevarán a cabo el 29/05/21.
Los boletos de admisión general incluyen una comida de 3 platos con opciones de champán o servicio de botella.
El espectáculo final determina al gran ganador basándose en una entrevista final, trajes de baño y trajes de noche entre los concursantes finales.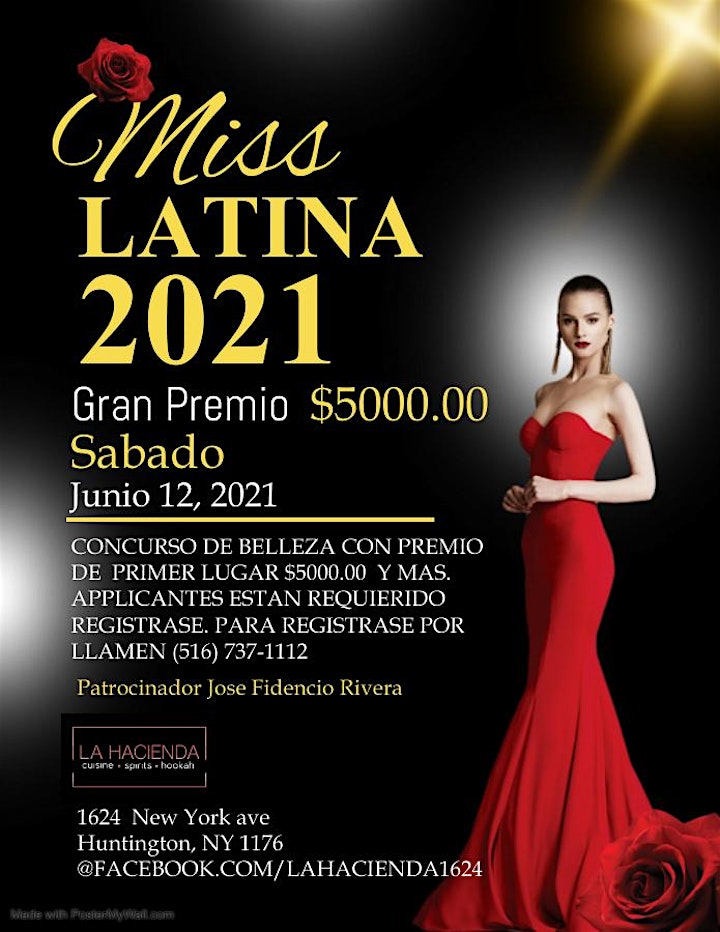 Organizer of Miss Latina 2021