Description
Miss Fashion Week Grand Finale 2018
Date: 12/01/2018 6pm - 10pm
Location: Fairmont Dallas Gold Ballroom
1717 N. Akard Street, Dallas Texas 75201
Red carpet: 12/01/2018 5pm Gold Ballroom
Private meet&greet&workshops for contestants and VIPs: 11/30/2018 2pm to 5pm in the "French Room" at the Fairmont Hotel
Hosts: Justin Chavez aka Part Time Justin from KissFM, Kassidy Young Miss Fashion Week International 2018, Priscilla Disla - Miss Fashion Week Petite 2018 and Shirley Escalada - Miss Fashion Week Jersey City 2018
Miss Fashion Week - Modeling x Pageant
A platform that promotes body-positivity & self-love

For Information to become a sponsor, media coverage, fill out contestant application or become one of our partners in your area, visit our website: https://missfw.com/pages/miss-fashion-week-finale-event-2018
Workshops lineups for November 30th, 2018
Session 1 2:00pm to 2:30pm: With the Founder of Miss Fashion Week - Vera Viviona Wang

/ Self Love Advocate / Introduction of Miss Fashion Week and Our Mission.

Session 2 2:30pm to 3:00pm: Meet & Greet with 2018 title holders - Kassidy Young

Miss Fashion Week International 2018,

Priscilla Disla

- Miss Fashion Week Petite 2018 and

Shirley Escalada

- Miss Fashion Week Jersey City 2018

Session 3 3:00pm to 3:30pm: Modeling & Pageant Training - Carlotta Lennox

- Modeling and Pageant Experience

Session 4 3:30pm to 4:00pm: Social Media Workshop with Knox Keith

- VP of Merge Forward

Session 5 4:00pm to 4:30pm: Live a Guilty Free Life with Danielle Natoni

- Influencencer

Session 6 4:30pm to 5:00pm: The Secret to Wealth with Holly Signorelli

- Author & CPA
Judging Panel for December 1st, 2018:
Tiffany Hendra:

Founder

The Coaching Sanctuary™

Amber Griffin:

Founder The Model Prep

Carlotta Lennox:

Founder

the Modeling and Pageant Experience

Luis Gomez:

Published Photographer (over 40 magazines)

Kevin Howard:

Casting Director

Jim Keyes:

Chairman of Wild Oats Marketing LLC.,Former CEO of Blockbuster Inc. and 7-Eleven, inc.
About Miss Fashion Week:
* Miss Fashion Week is the first and the only organization that bridges modeling with pageant.
* Our mission: To Empower Women through Body-Positivity & Self-Love. #YouAreEnough
* We are the only platform that truly embraces diversity. We are the first in human history ever that take petite, curvy, runway, junior, teen and international.
Follow up on Instagram please: @missfashionweekofficia
FAIRMONT HOTEL VALET PARKING AND AREA FREE PARKING
Fairmont Hotel provided 20% discount for Valet Parking for our event.
There are free parking around the area. Please use the link below for reference:
https://www.dropbox.com/s/nd5yneech766uwy/Area%20Public%20Parking%20Map%201.pdf?dl=0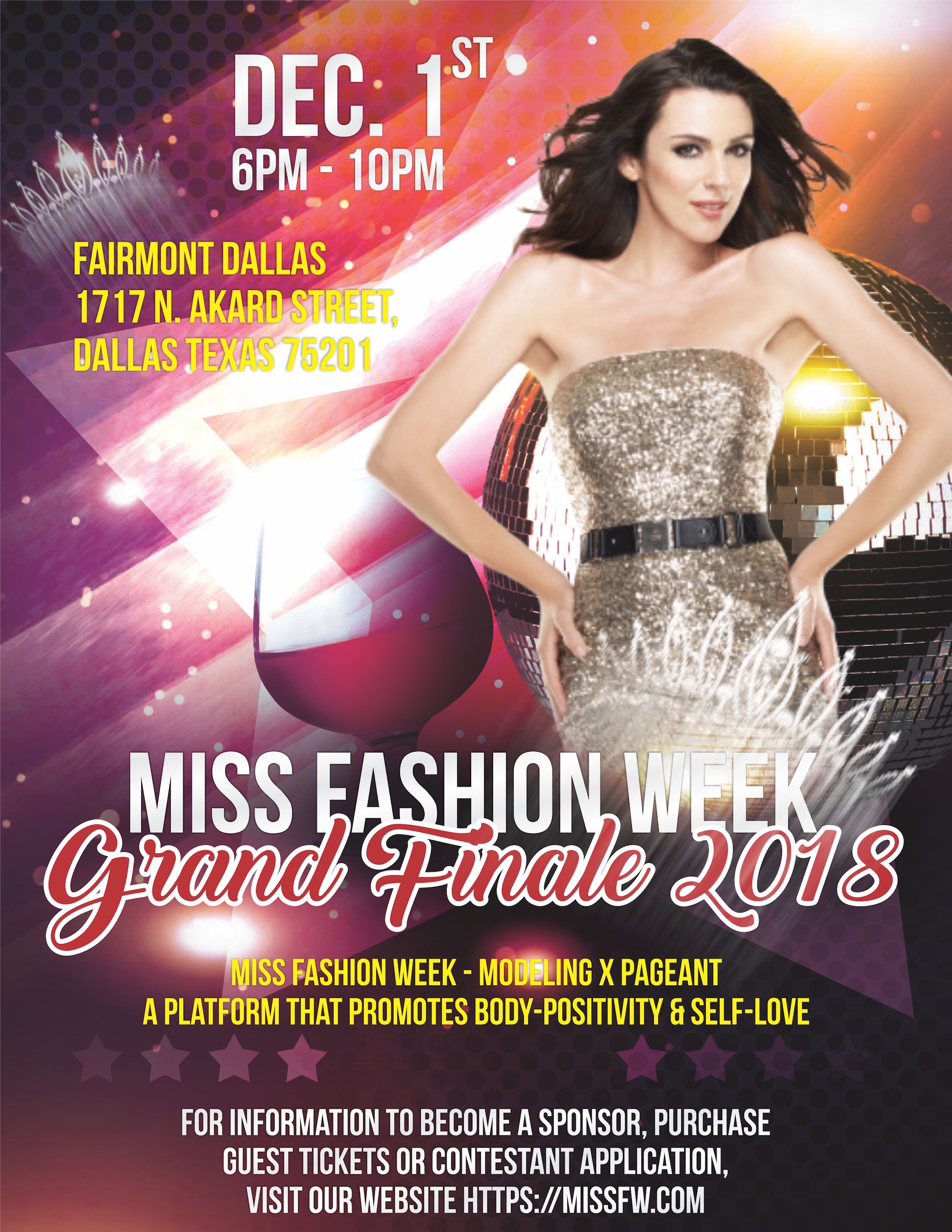 Organizer of Miss Fashion Week Grand Finale 2018