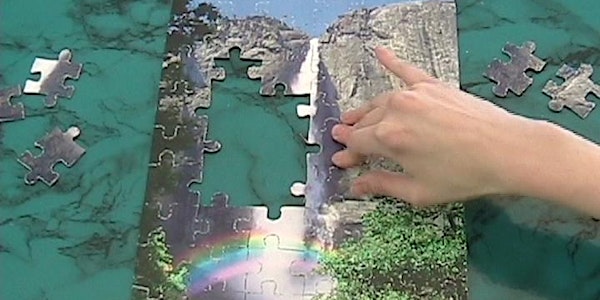 (Mis)Reading the Image: Selections by Darrin Martin
A a screening and discussion lead by artist and educator Darrin Martin, featuring works that feature disability representation or access.
By Electronic Arts Intermix
Date and time
Starts on Thursday, March 30 · 7pm EDT
Location
Electronic Arts Intermix (EAI) 264 Canal Street #3 New York, NY 10013
About this event
Please note: Seating is first come, first serve. RSVP does not guarantee entry, but helps us track interest and send event updates and reminders.
Electronic Arts Intermix (EAI) is pleased to present a screening and discussion lead by artist and educator Darrin Martin, whose video, performance, and print-based installations have considered the synesthetic qualities of perception, and notions of accessibility through the use of tactility, sonic analogies, and audio descriptions.
Beginning in 2010, Martin started to explore EAI's collection with two goals in mind: to search for disability representation, and in pursuit of experimental video work that considers disability access at its inception—even if it might not have been the impetus for its making. As an extension of this project, Martin has assembled a program of works by six artists whose practices span from early conceptual video to contemporary performance, each uniquely engaging the themes of perceptual difference, semiotic play, and embodiment. A free, closed-captioned online streaming version of this event will be available in mid-April.
Image: Still from Shana Moulton, Whispering Pines 6, 2006. An incomplete jigsaw puzzle is presented on a green table marbled with black veins. A hand pressing pieces in place is pictured coming in from the side. Enough of the puzzle is complete to reveal a waterfall descending from a cliff that ends in a rainbow and mist into the forest below.
--
Electronic Arts Intermix (EAI)'s venue is located at 264 Canal Street, 3W, near several Canal Street subway stations. Our floor is accessible by elevator (63" × 60" car, 31" door) and stairway. Due to the age and other characteristics of the building, our bathrooms are not ADA-accessible, though several such bathrooms are located nearby. If you have questions about access, please contact cstrange@eai.org in advance of the event.
About the organizer
Founded in 1971, 
Electronic Arts Intermix (EAI) 
is a nonprofit arts organization that fosters the creation, exhibition, distribution, and preservation of moving image art.
A New York-based international resource for media art, EAI preserves and provides worldwide access to a major archive of over 3,800 new and historical media artworks, from groundbreaking early video by pioneering figures of the 1960s to new digital projects by emerging artists. EAI supports artists through the distribution, presentation and preservation of their media artworks, and works closely with educators, curators, programmers and collectors to facilitate exhibitions, acquisitions, and educational uses of moving image art. EAI's services also include viewing access, educational initiatives, extensive online resources, technical facilities, and public programs such as artists' talks, screenings, and multi-media performances. EAI's Online Catalogue is a comprehensive resource on the artists and works in the EAI collection, and features expansive materials on media art's histories and current practices: 
www.eai.org