Description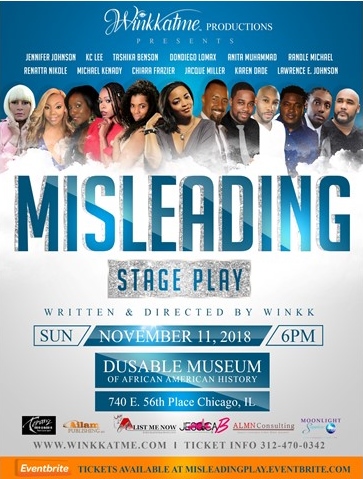 Misleading Original Stage Play, Written and Directed by Winkk, will draw you into the world of the scandalous, successful businessman, Jarvis Denttin. With money and women dominating his life, he is unaware of the scheme being orchestrated to bring him down. Jarvis is ready for a fresh start, but karma gets to him first. Oblivious of his acquaintance motives, puts him in a deadly situation. Will his life crumble before he finds out that the people around him have been misleading him the entire time?
*******DOORS OPEN AT 5PM*******
****** THE SHOW STARTS PROMPTLY AT 6PM*****
TICKETS WILL NOT BE SOLD AT THE DOOR
This Show is for a Mature Audience
Free street parking is available. Additional parking is available on Cottage Grove at the University of Chicago parking lot at a reduce rate (See the museum to obtain validation ticket for parking).
Misleading Stage Play is based on the Novel Misleading by Winkk
PURCHASE WINKK'S NOVELS ON AMAZON