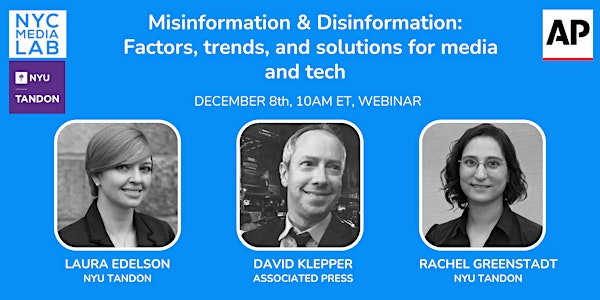 Misinformation & Disinformation: Factors and solutions for media and tech
Join us for a lively discussion about mis and disinfo featuring reporters, researchers, and technologists from the field.
About this event
Join us to explore trends in disinformation and misinformation and how tech tools can help analyze and combat the issues. We'll look at
how misinformation and disinformation played out in the 2022 U.S. midterm elections,
building tools to understand bad actors,
and designing trustworthy systems.
David Klepper, Misinformation Reporter, Associated Press
David Klepper for the Associated Press, where he covers the nexus of technology, misinformation and extremism. His recent work has focused on the role misinformation plays in elections in the U.S. and abroad, the COVID-19 pandemic and Russia's invasion of Ukraine. A native of the Chicago suburbs, he has a B.S. from the University of Illinois and an M.A. from the University of Missouri School of Journalism. A native of the Chicago suburbs, he's based in Providence, Rhode Island, but reports to the AP's Washington, D.C. bureau.
Laura Edelson, Co-founder, NYU Ad Observatory
Laura Edelson is a postdoctoral researcher with Cybersecurity for Democracy at NYU's Tandon School of Engineering. There she helped to develop Ad Observatory, a free, public dashboard that provides insight into political ad spending on Facebook and Instagram. Laura studies online political communication and develops methods to identify inauthentic content and activity. Her research has powered reporting on social media ad spending in the New York Times, the Wall Street Journal and the Atlantic. Prior to her current time in academia, Laura was a software engineer for Palantir and Factset. During her time in industry, her work focused on applied machine learning and big data.
Rachel Greenstadt, Associate Professor of Computer Science, NYU Tandon School of Engineering
Rachel Greenstadt is a professor in the Computer Science department at NYU Tandon School of Engineering. She holds a bachelor's degree in Computer Science (2001) and master's degrees in Electrical Engineering and Computer Science (2002) from MIT, as well as a Ph.D. (2007) in Computer Science from Harvard. Greenstadt's research has focused on designing more trustworthy intelligent systems — systems that act not only autonomously, but also with integrity, so that they can be trusted with important data and decisions.
The NYC Media Lab is based at the vibrant Media, Technology and Arts building at NYU's Tandon School of Engineering. We are dedicated to driving innovation and job growth in media and technology by fostering collaboration between New York City's universities and companies.