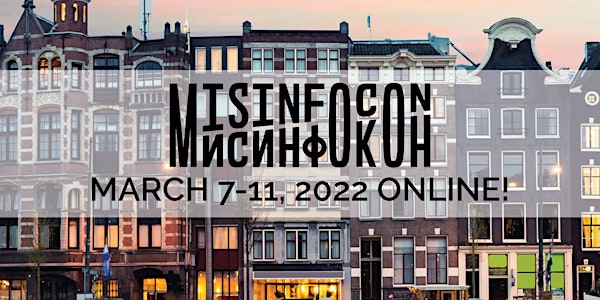 MisinfoCon @ MozFest 2022: A Global Online Summit on Misinformation
MisinfoCon 2022 @ Mozfest is the latest iteration of the global misinformation online summits organized by Hacks/Hackers.
About this event
Update: March 7th, 2022
For easier access to our virtual sessions, please make sure you also sign up for a MozFest ticket available for free here.
All MozFest ticket holders will be able to see a Zoom link for our sessions on our schedule.
Full schedule (add your chosen sessions to your calendar) in your local time zone: https://schedule.mozillafestival.org/misinfocon.
Visit our website: mozfest.misinfocon.com
Event agenda and sessions:
We're happy to share our event agenda with participants.
Full agenda: https://bit.ly/32UJhJ6 (Google Docs)
About MisinfoCon @ MozFest 2022: Global Summit on Misinformation
The ongoing COVID-19 pandemic has brought old and new information challenges to the forefront. MisinfoCon 9.0 will feature a host of topics and presentations on these topics. We encourage our audience to engage with our content and all current policy and tech conversations on media literacy, information access, truthfulness, content authenticity, election and information integrity, and bad incentives in the ecosystem. We will additionally bring back again conversations about trust in media institutions and digital platforms as the dominant brokers of information, science and scientists and governments.
A series of online sessions
Due to the ongoing Omicron variant spread, the MisinfoCon team will host the MisinfoCon as a series of online sessions hosted on Zoom.
When is MisinfoCon @ MozFest?
The online edition of the MisinfoCon will take place primarily on March 11th, 2022.
Some other sessions will also take place between March 7th and 10th, 2022.
Tickets and participation are free.
Where can I particpate in MisinfoCon sessions?
All MozFest sessions will be hosted on Zoom. Registrants on Eventbrite will receive the MisinfoCon schedule and timely emails to join our scheduled live sessions.
About Misinfocon @ MozFest: Topics
In 2022, MisinfoCon Amsterdam will focus on the challenges that misinformation raises for the information ecosystem, government, and platforms in four areas: trust, content moderation and democratic speech, election, and regulating disinformation. We invite civil society, the policy, academic, research, and technology community to join us in learning about current projects and initiatives and brainstorm practical applications and recommendations related to these topics.
Misinformation and free democratic debate: Free democratic speech and debates are integral to democratic societies. The COVID-19 pandemic put forth realistic trade-offs between public health safety and how much people can say online. It was also an opportunity for governments and authoritative institutions to partner with internet and social platforms and gain further reach for their content with new audiences.
Misinformation and elections: 2022 will be a year full of elections with several general elections in many large democracies in different parts of the world such as the US, India, Brazil, France, Kenya (full list). Close to 2 billion people around the world will head to the polls to cast votes for their next representatives in government. The fragility of the information ecosystem we all share makes for the challenges with election misinformation and election integrity in general. In several parts of the world, elections are catalyst social events that bring misinformation to the foray of society. Competing interests, geopolitics, and domestic instability are major contributing factors to election misinformation and hyperpolarization in other democracies.
Regulating disinformation: New legislation to regulate dis- and misinformation have sprung up in several digital markets around the world, from Turkey to India, Singapore, Egypt, Brazil, the EU, UK, the US, Canada (the list is far from being exhaustive). 2022 will be a year where several of these bills may come into effect with a direct impact on online speech, the democratic discourse, and elections. We are inviting organizations, facilitators, regulators, and practitioners to dissect the laws that aim to govern platforms, entrust a new culture of transparency, data share, and codifying platform accountability into law.
Restoring trust as public value: While detection and prevention of future large-scale manipulation efforts is critical, so too are media literacy efforts related to the general inoculation of the public to misinformation campaigns. Finland, recently deemed as the most resilient to disinformation according to the Open Society Institute's Media Literacy Index, has been held up as a model for its multi-level approach to media literacy education.
Privacy policy
By registering for this event, you agree to consent to our privacy policies as well as MozFest privacy policy, MozFest tickets privacy terms and MozFest participation guidelines. Key points of our Privacy Policy are:
MisinfoCon team collects registrants' data to issue tickets, register check-in, send Zoom links and communicate with registrants about the event including any updates and exit surveys after the event.
When you register for a MisinfoCon event, we add you to the Misinfocon.com newsletter mailing list on Mailchimp. You may choose not to consent to this during registration or withdraw your consent by unsubscribing at any time in the future
Additionally, MisinfoCon may share your registrants' data collected via the Evenrbite registration form with program partners and sponsors. You may choose to consent or to not opt in.
MisinfoCon will never sell, rent, share, or distribute your user information without your permission unless compelled by law.
Sponsorships
If you woud like to sponsor or partner with MisinfoCon for this or a future event, please send an email to ahmed@hackshackers.com
MisinfoCon Team