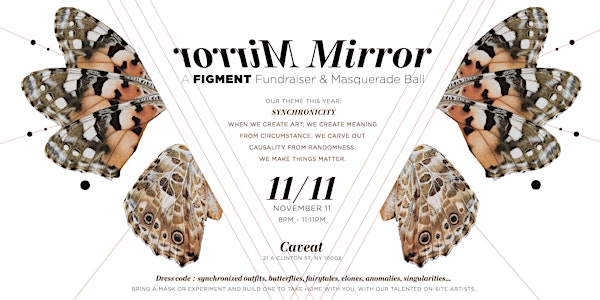 MIRROR / MIRROR: FIGMENT Fundraiser & Masquerade Ball
Join us for our third annual FIGMENT Project Global Fundraiser and Masquerade Ball!
When and where
Location
Caveat 21 A Clinton Street New York, NY 10002
Refund Policy
Contact the organizer to request a refund.
About this event
We are excited to invite you to our third annual FIGMENT Project Global Fundraiser and Masquerade Ball on 11/11. Celebrate FIGMENT and raise funds for our 2020 season.
11/11 for 2020. Coincidence? We think not. Our theme this year is SYNCHRONICITY: that thing we humans do when we find meaning and causality in unrelated events.
When we create art, we create meaning from circumstance. We carve out causality from randomness. We make things matter.
Join us and celebrate that meaningful coincidence; embrace that wink and nod from the universe; and clap your butterfly wings at our 2019 MIRROR / MIRROR FIGMENT Fundraiser & Masquerade Ball.
Over the past 13 years, FIGMENT has hosted 73 free interactive arts events
in 20 cities
in 5 countries
on 4 continents
and with your help we can continue to grow and expand
EVENT DETAILS
Monday, November 11 / 8-11:11pm
Caveat / New York's newest speakeasy stage for playful, intelligent nightlife
Featuring: Interactive Art Performances / Small Bites / Raffle / Silent Auction / Mask Making / Screen Printing / Polaroid Photo Booth / Cash Bar
DRESS
Synchronized Outfits, Butterflies, Fairytales, Clones, Anomalies, Singularities, or anyway you'd like to interpret the theme
Wear a mask or make one with our talented on-site artists
INTERACTIVE PERFORMANCES
This Year's masquerade ball will feature 8 interactive art performances! Projects include: Tiny Box Theater Company, Atrina Lovekin's Balloon Making, John Walter's True Mirror, Jesse Bee's Rainbow Interactive Projection Art, Pon Pon Yeh's Paper Mache Art, Noy Har-Shemesh's Silk Sceening, and David Geodike's Rules and Behavior Projection Art.
AWARDS
We are thrilled to announce that this year we will be awarding Risa Puno and Cliff Perlman with Interactive Art Awards.
The Interactive Artist of the Year Award: Risa Puno is a sculpture and installation artist who uses interactivity and play to understand how we relate to one another. Often taking a whimsical form, Risa's work creates accessible spaces to explore universal human conundrums. Risa has a long history with FIGMENT, including creating the "Common Picnic" Installation in the FIGMENT NYC Season-Long Sculpture Garden on Governors Island for the 2015 season. In addition, Risa has exhibited at national and international venues, including: Creative Time, The Aldrich Contemporary Art Museum, Socrates Sculpture Park, El Museo del Barrio, NURTUREart, The Bronx Museum of the Arts, SPACES in Cleveland, OH, Galerie Stefan Röpke in Cologne, Germany, and MMX Open Art Venue in Berlin, Germany. Visit her current installation, The Privilege of Escape, at Creative Time until 9/30. 
The Interactive Arts Patron of the Year Award: As a partner at Perlman and Perlman, Cliff Perlman has has been advising philanthropic organizations for more than twenty five years, counseling the firm's nonprofit clients through every stage of the corporate life cycle. As a board member of American Chai Trust, Cliff has funded and supported projects in the New York City area that deal directly with human needs since 1964. The trust's support extends to community and interactive art and has been a great supporter of FIGMENT since 2014.
Benefit Committee
Francesca Anumonwo
Hannah Fox
Michael Goldberg
Krystal Henriquez
Rae Klein
Sasha Koren
Carly Leinheiser
Fil Maresca
Noy Har-Shemesh
Hillary Spencer
Wylie Stecklow
Emma Tuccillo
Carlijn Urlings
Executive Director
David Koren
Invitation Design by Noy Har-Shemesh
Can't make it to the event? Support FIGMENT and Donate here!!
ABOUT FIGMENT
FIGMENT Project hosts free participatory arts events that celebrate creativity by challenging artists and participants to find new ways to create, share, and dream. Currently held in six cities across the US and abroad, FIGMENT events are organized entirely by passionate volunteers. Over the past 13 years, FIGMENT has hosted 73 free interactive arts events in 20 cities, in 5 countries, on 4 continents.