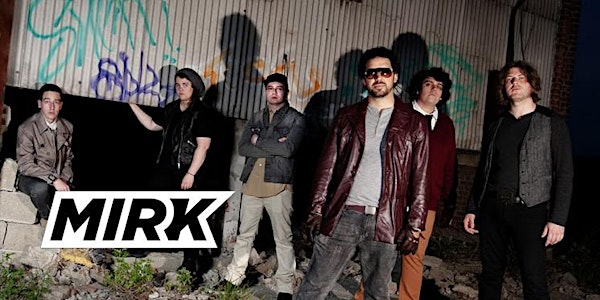 MIRK: Open For Take-Out Virtual Concert Series
Join us Live on YouTube for a virtual concert like no other with MIRK March 15th 2021.
Refund Policy
Contact the organizer to request a refund.
About this event
MIRK is a 5 piece musical powerhouse, delivering new music that is both fresh and familiar. Based in Upstate New York, MIRK has been making the people dance for 10 years strong. They have had the pleasure of sharing the stage with the likes of Wu Tang Clan, Matisyahu, J. Cole, Third Eyed Blind, French Montanta, The Neighborhood, The Heavy and Mr. Cheeks just to name a few.
More info: https://www.mirkmusic.com/
We at The Linda realize that the impacts of COVID-19 have been dire for working musicians and the music industry as a whole. The goal of this series is to help restart the local music economy by bringing a wide array of eclectic and diverse, local and regional musicians back to the stage in a safe environment and to provide fans with a professionally produced concert delivered directly to their homes via YouTube stream. Just like any in person performance at The Linda, the virtual concerts maintain a high standard of audio and video quality.
ONLINE ACCESS:
-Tickets are currently available for live viewing at 8 pm Monday March 15th and the replay will be available until March 16th at 11:59 pm.
-Tickets to the replay of this concert are available until March 16th at 11:59 pm.
-You are required to sign in or sign up for a YouTube account to comment or ask questions during the stream.
-For best streaming quality please ensure that you have a good WiFi or wired internet connection.
-For best audio experience please listen with a good speaker system or headphones.
-A private link to the live stream will be provided 2 hours prior to the virtual concert and will be available for 24 hours.
-Click the "view online content" link within your ticket confirmation email to get the link.