Description
Join us as we celebrate those who took the leap into Entrepreneurship in 2015. We will be announcing our 2015 EntrePREMIER of the Year, along with our finalists and all who applied.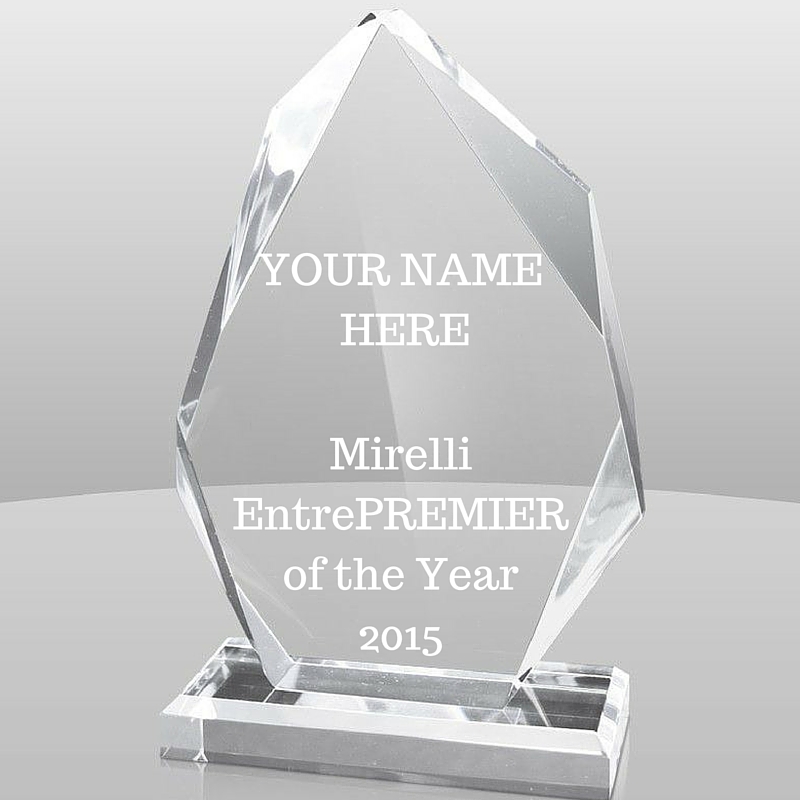 When: Friday, May 20, 2016
Where: Harbor Breeze, 176 Patriot's Point Rd, Mount Pleasant, SC 29464
Time: Networking begins at 6:00 pm, Corks pop for a Champagne Toast at 7:00 pm
Dress: Cocktail, semi-formal
Refreshments: Heavy hors d'oeurves, cash bar, complimentary champagne toast
Why: We want to honor all those who started a business in 2015 as well as support those who are starting new businesses in 2016 and beyond. We are raising funds for the Mirelli Entrepreneur Training for Women Pay-It-Forward Campaign, which assists women (and men) with business planning and development and in obtaining coaching, training and connections. For every $300 raised, the Mirelli community is asked to nominate a worthy woman in need of a helping hand to get her started toward her dreams.
We are also raising funds to support our Mirelli Jr. summer camp, coming in July, 2016.
We are excited to announce our Emcee for the evening will be Kaneshi Hart of Confident You, LLC. Kaneshi t
eaches and empowers women and teen girls to wholly love themselves and become completely confident in who they are and the life they choose to live.

Our Keynote Speaker is DJ Thatcher. DJ serves as a Performance Coach with Dale Carnegie South Carolina, with a specialty in Effective Communications and Human Relations. In his role with Carnegie, he works with businesses and individuals to help them improve their performance and quality of life. D.J. is certified to coach the flagship Dale Carnegie Course, Public Speaking Mastery, and Carnegie's High Impact Presentations Program, in addition to others. He is also a certified Live Online Trainer for Dale Carnegie & Associates in New York and broadcasts nationally and internationally.
D.J. is a voice talent and communications professional who specializes in achieving dynamic results for individuals and companies related to "getting their message understood", through voice and on-line video branding for his clients. He has on-air experience as a television and radio broadcaster for news and traffic, and also has experience as a Public Address announcer for minor league baseball.
With a degree in nursing from Alvernia University, D.J. has more than three decades of experience in the medical field as a paramedic and Registered Nurse. He contracts his services through his own company and his specialties include emergency, trauma, and critical care nursing. You can still find him responding to 911 calls as a paramedic a few days each month. D.J. has been a faculty member of a paramedic training program and hospital critical care course, and has taught many medical education programs throughout the eastern U.S. He served as the Assistant Chief Nursing Officer of a medical center in his hometown of Lancaster, PA, and successfully fulfilled a contracted leadership position at a Level-1 Trauma Center in Philadelphia. He is the former Operations Manager of a paramedic service, and coordinated a large AED (defibrillator) program.
D.J. also has experience as a network marketer, and with real estate investing. He brings a wealth of experience to the entrepreneurial world.
Sponsorships are available. To request a sponsorship packet, contact Trina@Mirellietc.com.
To have material & product samples included in our event Swag Bags, contact Trina@Mirellietc.com. There is a $10 insertion fee for non-Mirelli members. Deadline is May 15.