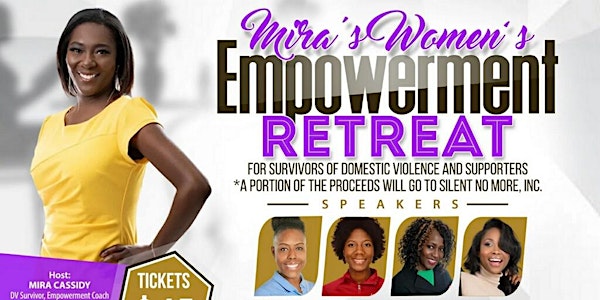 Mira's Women's Empowerment Retreat
How long have you been free? 1, 5, 10 + years? Come heal, gather, network, learn, and be EMPOWERED!
When and where
Location
The Silver Centre Event Hall 10202 Washington Street Ste. 300 Indianapolis, IN 46229
Refund Policy
Contact the organizer to request a refund.
Eventbrite's fee is nonrefundable.
About this event
9:30 a.m.-10:00 a.m. – Check-In / Meet & Greet/ Vendor Shopping
10:00 a.m. - 10:25 a.m. Mira Cassidy Title: Get to the Other Side
10:30 a.m.-11:10 a.m. E.M.T Title: Elite Wellness – A Lifestyle
11:15 a.m. -11:40 a.m. Regina Warren Title: S.T.O.P. – Stand Tall on Purpose
11:40 a.m. - 12:30 p.m. Lunch
12:30 p.m. -12:55 p.m. Jean Poole Title: Know What Makes You Tick Vs. Ticks You Off
1:00 p.m. -1:25 p.m. Panel Discussion/ Q&A Discussion Topic
1:30 p.m. -2:00 p.m. Vendor Shopping
Speaker: Mira Cassidy
DV Survivor, Empowerment Coach, Motivational Speaker, Author
Title: Get to the Other Side
Trauma, PTSD, mental health issues- you can heal, and you can recover. This motivational talk
encourages people to not be embarrassed about their condition, and to actively seek the needed
help, put in the work, and heal. Mira understands what it's like to live with PTSD and the
struggles on the road to recovery. She shares her journey from surviving to thriving.
Speaker: Dr. Alexandria Wise
OT, OTD
Dr. Kimberly Green
PT, DPT
Title: Elite Wellness – A Lifestyle
Join Co-Founders and Owners of Elite Muscle Therapy for a presentation on the meaning of
wellness as a lifestyle and what it means to take your wellness to an elite level. This presentation
will be an inclusive discussion on holistic well-being. Prepare to explore the depths of what self-
care truly means and how our daily routines contribute to emotional, spiritual, financial, and
mental thriving.
Regina Warren
Military Veteran, Speaker, Mentor, Model Coach
Speaking Topic: "S.T.O.P.!!"
Stand Tall on Purpose. I can only control me.
Jean Poole
E Cubed Performance
Inspirational Leader, Speaker
Title: Know What Makes You Tick Vs. Tick You Off
How to recognize and manage your triggers despite the circumstances, person, place, or thing.
This retreat will consist of fellow survivors and supporters sharing their own personal stories, successes, and resources. Attendees will be given tools to help them advance their self-identity and self-worth. Also, with this event, a portion of the proceeds will go to Silent No More, Inc. Silent No More, Inc. is a grassroots domestic violence organization that provides emergency shelter placement, support, education and more. Learn more at silentnomoreinc.org
*If you have questions, to be a sponsor, or to donate a ticket for an attendee, email mira@miracassidy.com
Doors Open at 9:30 for Vendor Shopping and Networking.
All Sales Final.