Description
HUMBLE PIE ENTERTAINMENT in association with STER-KINEKOR ENTERTAINMENT cordially invites you to a PRIVATE SCREENING EVENT for the movie MIRACLES FROM HEAVEN

ADMIT 2 PERSONS (No children under the age of 13 allowed)
Strictly Only Leaders or Representatives from organisations and churches allowed.
Two tickets per organisation /church allowed.

NON TRANSFERABLE – LIMITED SEATS AVAILABLE.
Right of Admission Reserved Humble Pie Entertainment.
Time: 19:45 for 20:00
ADMISSION: FREE
DRESS: CASUAL

- CITY – VENUE – DATE -
Durban - Ster-Kinekor Gateway Shopping Centre Cine 9 – 25 APRIL 2016

Watch the trailer:
https://www.youtube.com/watch?v=CldGTG6iVrU

---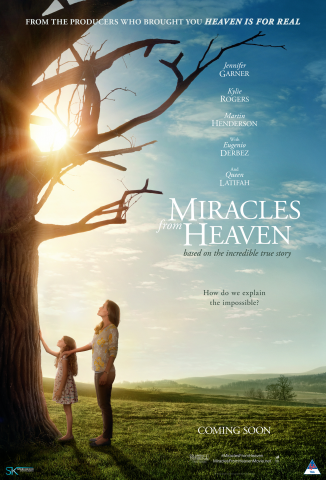 'MIRACLES FROM HEAVEN' - IN CINEMAS 6 MAY 2016
A Little girl
Her journey to heaven
And her amazing story of healing
MIRACLES FROM HEAVEN is based on the incredible true story of the Beam family. When Christy (Jennifer Garner) discovers her 10-year-old daughter Anna (Kylie Rogers) has a rare, incurable disease, she becomes a ferocious advocate for her daughter's healing as she searches for a solution. After Anna has a freak accident, an extraordinary miracle unfolds in the wake of her dramatic rescue that leaves medical specialists mystified, her family restored and their community inspired.
Our Hope Is Real,
Heaven Is Real!
TD JAKE'S take on the film-
For T.D Jakes the film's appeal was wide-ranging. "What I love about this story is that it is not only about miracles. It's about families and struggle. That's as real life as it gets. I believe it's a powerful, provocative story about how a family survives adversities. It's a film that gives hope and this is a time when people need hope," says Jakes. "It's also a film about fighting for what you believe in ... and sometimes fighters aren't burly men; sometimes they're tough mamas who refuse to give up on their kids. So you will see faith in this film, and you will also see fear and people fighting against that ... and the most powerful part is that you might even see yourself."
Cast: Jennifer Garner, Kylie Rogers, Martin Henderson, John Carroll Lynch with Eugenio Derbez and Queen Latifah
Directed by: Patricia Riggen
Screenplay by: Randy Brown
Based on the book by: Christy Beam
Produced by: Joe Roth, T.D. Jakes, DeVon Franklin
Executive Producers: Matthew Hirsch, Derrick Williams, Zack Roth
Running Time: 109 min
Age Restriction: PG
Genre: Drama
---