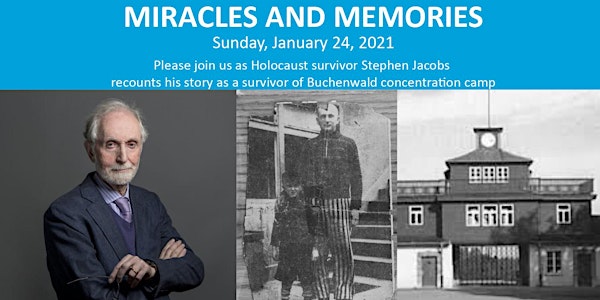 Miracles and Memories
ANNUAL HOLOCAUST REMEMBRANCE EVENT: MIRACLES and MEMORIES: Annual Holocaust Remembrance Event - January 24, 2021
About this event
ANNUAL HOLOCAUST REMEMBRANCE EVENT:
 January 24, 2021 – In Commemoration of International Holocaust Remembrance Day, Am Yisrael Chai presents a powerful and unforgettable event:
Keynote Holocaust Survivor speaker: Stephen Jacobs
Stephen Jacobs (Stefan Jakubowicz) was born in Lodz, Poland in 1939. After the Nazi invasion of Poland, he and his family were deported to the Piotrkow ghetto. The ghetto, which housed approximately 25,000 Jews was liquidated in 1942. Those who survived were sent to concentration camps – the women to Ravensbruck and the men to Buchenwald. Jacobs was only 5 years old and managed to survive Buchenwald through courage, luck, and miracles.
Today, he is a prominent New York architect. He designed the Holocaust memorial at the "little camp" at Buchenwald, where he was imprisoned, and also recently designed the Holocaust memorial in Tirana, Albania where more than 2000 Jews were saved.
 Date:             January 24, 2021
Time:              7:00pm -- 8:30pm – Miracles and Memories Event
 Online LIVESTREAM event; Link will be sent prior to the event
 RSVP required:    2021remember.eventbrite.com
 This event is free and open to the public. Sponsorships and donations appreciated and can be made when you sign up on eventbrite or by visiting us at https://www.daffodilproject.net/holocaust-remembrance-event-donations/
or contacting us at amyisraelchaiatlanta@gmail.com.
Sponsors will be listed in the digital program
Extend your Miracles and Memories experience by becoming a sponsor today! All Sponsors and Donors are invited to join us for a special screening of the acclaimed film, Besa: The Promise, followed by a live Q&A session on January 31. All sponsors and donors can enjoy the movie via private online link beginning January 27, International Holocaust Remembrance Day, until the end of the screening on January 31. If you're not already a sponsor, it's not too late. Donate today! Click here to learn more about the film.