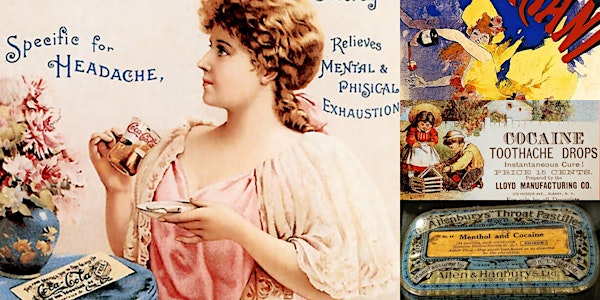 'Miracle or Menace? The Early History of Cocaine' Webinar
Can't make it live? Register and get access to the full replay for one week! New York Adventure Club | www.AdventureClub.com
About this event
By the late Victorian era and into the 20th century, cocaine was widely considered to be a miracle substance thanks to its nerve-numbing properties. But how did the powdery substance go from from a celebrated and widely available cure-all remedy to an outlawed street drug that was rightfully vilified by the press and politicians? It's time to explore the story of cocaine and its transformation from miracle substance to society's #1 menace.
Join New York Adventure Club as we uncover the early social and cultural history of cocaine, from its surprising mainstream uses and abuses to destructive side effects that would eventually lead it to be banned in most parts of the world.
Led by historian Lucy Jane Santos, our virtual experience surrounding cocaine during a 70-year period in the late 19th and early 20th centuries will include:
How cocaine's nerve numbing properties were co-opted by the medical profession for pain relief, surgery, and body modifications
Examples of quack products utilizing cocaine such as Cocarettes, a cigarette made with coca leaves and tobacco
An overview of coca wine, from why the19th century energy drink was favored by celebrities of the day to how one American version eventually morphed into Coca Cola
The rise of cocaine as a recreational drug after the First World War, and the parties and nightclubs where it was freely available
The highly publicized deaths and high-profile arrests during the 'First Era of Cocaine' that transformed cocaine from an innocent pain-relieving substance to a toxic one that governments quickly banned
Afterward, we'll have a Q&A session with Lucy — any and all questions about the early history of cocaine are welcomed and encouraged!
Can't make it live? Don't worry, you'll have access to the full replay for one week!
See you there, virtually!
*Once registered, you will receive a separate, automated email containing the link to join this webinar
**For the best possible viewing experience, please ensure you're using the latest version of your internet browser — Google Chrome is the most compatible. Exact technical requirements and a webinar user guide will be shared in the automated confirmation email upon registration.
***A full replay will be available after the experience for all registered guests
About Lucy
Lucy Jane Santos is an expert in the history of 20th century leisure, health, and beauty.
After completing a BA in Egyptian Archaeology and a MA in Arts and Heritage Management Lucy worked for several private members clubs and societies in London including The Arts Club, the Authors' Club, and the International Wine and Food Society.
She has been a judge for the Historical Writers' Association Non-Fiction Crown, the recipient of the Stephen Joseph Research Award and was the Non-Fiction Writer In Residence for the Stay-at-Home! International Literature Festival (2020). She is a founder of the Art Deco Society UK and co-founder of the Cosmetic History and Makeup Studies Network.
Half Lives: The Unlikely History of Radium is Lucy's debut book and was shortlisted for the 2021 BSHS Hughes Prize, for books that bring scholarship to new readers by capturing the public imagination while conforming to the rigorous standards of academic research. Her next book, which is a history of the element uranium, will be published in 2024.
Lucy also works as a freelance historical researcher and consultant.
Testimonials
"Such a fun topic done in a very well measured way." -Carly
"Lucy covered a lot of information in a short amount of time with an organized, factual presentation. I enjoyed the little bits of info she added for interest as she went along. The movie clips enhanced the presentation also." -Ruth
"Learning about medicinal use at its inception." -Tracy
"Wonderful graphics and explanations." -Eleanor
"Love Lucy. She has such good knowledge of her topics and is a great presenter in her delivery." -Noelle
"It was fascinating and informative." -Ingeborg
"Old photos and advertisements." -Bob
"Full of fascinating historical insights about the early uses and the way cocaine swept the US/UK." -Linde
"Presenter always researches so well and includes wonderful tidbits - always wants me to go read up more on the topic" -SJ
"The story, slides, and fast-moving commentary from the presenter." -Debbie
Disclaimer
By attending a New York Adventure Club experience, you accept our terms of service.
Categories: Virtual, Moments in History