Miracle on Music Row

Saturday, December 17, 2011 from 10:30 AM to 2:30 PM (CST)
Event Details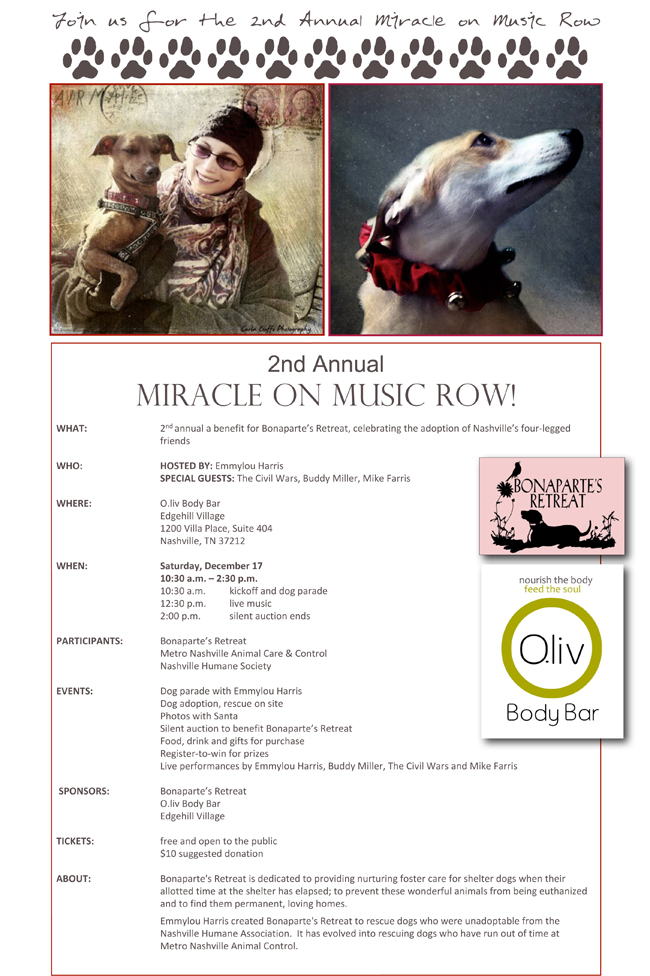 2nd Annual
Miracle on Music Row
The 2nd annual benefit for Bonaparte's Retreat, celebrating the adoption of Nashville's four-legged friends 
 HOSTED BY: Emmylou Harris
SPECIAL GUESTS: The Civil Wars, Buddy Miller, Mike Farris
 at O.liv Body Bar, Edgehill Village 
1200 Villa Place, Suite 404
Nashville, TN 37212
 Saturday, December 17
10:30 a.m. – 2:30 p.m.
10:30 a.m.kickoff and dog parade
12:30 p.m.live music
2:00 p.m.silent auction ends 
PARTICIPANTS:   Bonaparte's Retreat / www.bonapartesretreat.org
                                     Metro Nashville Animal Care & Control
                                     Nashville Humane Society
 EVENTS:                  Dog parade with Emmylou Harris
                                      Dog adoption, rescue  on site
                                      Photos with Santa
                                      Silent auction to benefit Bonaparte's Retreat
                                      Food, drink and gifts for purchase
                                      Register-to-win for prizes
                                      Live performances by Emmylou Harris, Buddy Miller, The Civil Wars and Mike Farris 
  TICKETS:                 free and open to the public
                                      $10 suggested donation
                                                      Bonaparte's Retreat is dedicated to providing nurturing foster care for shelter dogs when their allotted time at the shelter has elapsed; to prevent these wonderful animals from being euthanized and to find them permanent, loving homes.
Emmylou Harris created Bonaparte's Retreat to rescue dogs who were unadoptable from the Nashville Humane Association.  It has evolved into rescuing dogs who have run out of time at Metro Nashville Animal Control. 
When & Where
1200 Villa Place
Suite 404
Nashville, 37212


Saturday, December 17, 2011 from 10:30 AM to 2:30 PM (CST)
Add to my calendar